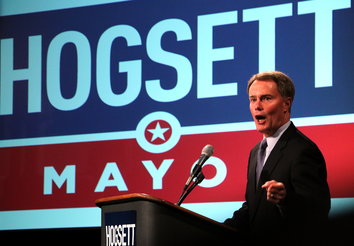 Incoming Mayor Joe Hogsett would receive $30,000 more per year than his predecessor under a pay-raise plan that will be introduced Monday at the City-County Council meeting.
The proposal—co-authored by Democrat Mary Moriarty Adams and Republican Jeff Miller—would boost the mayor's pay to $125,000 per year. It would also increase the pay for city-county councilors to $16,400 per year, up from $11,400 currently.
Neither salary has been increased since 2002.
Hogsett said last week that he had not been consulted about the proposed pay hike and "did not run for this position because I was concerned about the salary." His campaign manager, Thomas Cook, said Sunday that the mayor-elect had not seen the proposed ordinance.
In addition to his salary, the mayor is provided a car and an expense account.
Members of the council also receive $112 for each regular council meeting they attend (up to 21 per year) and $62 for each committee meeting they attend (up to 40 per year). Members can receive additional pay for serving in leadership roles.
The proposal will be referred to the council's Administration and Finance Committee.
If approved, the mayor's salary will top that of the governor. Republican Mike Pence earns just under $112,000 per year.
However, Hogsett's pay would be right in line with a number of other area mayors. Fishers Mayor Scott Fadness earns $125,000 per year and Carmel Mayor Jim Brainard earns just less than that—both in cities substantially smaller than Indianapolis. Across the state, Gary Mayor Karen Freeman-Wilson earns more than $129,000, Fort Wayne Mayor Tom Henry earns just more than $127,000 per year, and South Bend Mayor Pete Buttigieg earns almost $105,000 per year.
And in neighboring states, the mayor of Louisville earns about $118,000, the mayor of Columbus, Ohio, earns nearly $173,000, the mayor of Chicago earns $216,000 and the mayor of Detroit earns $158,000.
If the proposal is approved, Indianapolis City-County Council members would still have base salaries that are less than those of  a number of other councils across the state. In Fort Wayne, council members earn more than $22,000 per year, in Evansville just under $20,000 and in South Bend about $19,000 per year, according to research by The Journal-Gazette in Fort Wayne.
Conservative political columnist Abdul Hakim Shabazz said in a post at IndianaForefront.com that the increases are warranted.
"I think if you're running a billion dollar operation, you should be paid more than $95,000," he wrote. "Also, I fully understand the mayor of Indianapolis' salary has not been increased since 2002, and when adjusted for inflation, the $125,000 is not an insane figure."
However, he said the timing of the proposed increase "looks really, really bad" because the council is doing it after the election, not a year ago when its outcome was unclear.
"It would have been a much easier argument to make about attracting the 'best and brightest' if we hadn't already had an election," Shabazz wrote. "Or at the least the proposal could have called for the salary increases to be phased in over a four-year window.  Anything but the way it's being offered right now would be preferable."
Please enable JavaScript to view this content.