The central Indiana information technology community is a relatively new phenomenon, but the industry is rapidly approaching critical mass and poised for accelerated growth.

It started to gain steam in the mid- to late-1990s. Back then, information technology was all about Silicon Valley and the West Coast development of such tech behemoths as Apple and Microsoft. But rapid acceptance of the desktop and laptop computer by both business and the public spawned a vibrant community of software providers, both here and nationwide.

One of those software-development firms was Indianapolis-based Software Artistry Inc. The help-desk-software firm, which became the first publicly traded software company in Indiana in 1995, made headlines in 1997 when it was acquired for $200 million by IBM. The deal made millionaires of many of the company's investors, who promptly began investing in other area tech startups.

Two Software Artistry alumni, former CEO Scott Webber and Don Brown, illustrated another trend in the high-tech community: an entrepreneurial spirit in the visionaries who created the local industry. Few of the people who grew Software Industry had any desire to work in the corporate confines of IBM. Indeed, Software Artistry was renamed Corepoint Technology and absorbed by another IBM unit less than three years after its acquisition.

Webber put some of his Software Artistry windfall into Volatus Advisors LLC, a local tech investment group. As chairman, Webber has spearheaded Volatus investments in such firms as Aprimo Inc., Autobase Inc., BidPal Inc., Indigo BioSystems Inc. and WebLink International Inc.

Brown, who left Software Artistry in 1994 just before the company's initial public offering, founded Interactive Intelligence Inc. Joe Adams, a co-founder of Software Artistry, joined Interactive Intelligence two years later as a vice president. Brown also invested in Aprimo—founded by Bill Godfrey, the former marketing director at Software Artistry—and Mezzia Inc., a facilities capital planning software firm founded in Indianapolis by Michael Robbins, former senior vice president of worldwide operations at Software Artistry.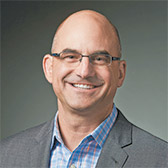 Scott Dorsey moved back to Indianapolis from Chicago and helped kickstart the Hoosier capital city's information technology revolution.
Another Indianapolis technology entrepreneur, Scott A. Jones, sold his interest in Boston Technologies, a proprietary voice-mail system, for $50 million. Jones used that capital to invest in such tech startups as GraceNotes, a music application for iTunes, and ChaCha Search Inc., a voice-based search engine. ChaCha was instrumental in attracting technology talent from all over America to central Indiana; an early investor was Amazon.com Chairman and CEO Jeff Bezos.

The growth of the Internet, the emergence of cloud-based computing, the rise of social media, and the transition from cell phones to smartphones—all occurring in the past 10 years—created even more opportunity for Indianapolis-based technology growth.

From 2000 to 2010, employment in the local tech community grew an estimated 1,000 percent. And the growth kept going. When Aprimo was acquired by Teradata in early 2011, the local company grew immediately from 450 employees to 750. A leading provider of data warehousing software, Teradata executives told Aprimo CEO Bill Godfrey they viewed the acquisition as a "reverse merger," since Teradata needed the Aprimo operating platform to grow.

In late 2013, Oracle announced it had acquired Compendium Inc., a cloud-based content-marketing provider based in Indianapolis that helps companies plan, produce and deliver content across multiple channels. The parent company combined Compendium with its Oracle Eloqua Marketing Cloud unit.

From its founding in 1994, Interactive Intelligence has grown to be a major provider of business communications solutions for call centers, enterprise Internet protocol telephony, and business process automation with $350 million in annual sales and more than 1,800 employees worldwide. Since 2009, the company has embarked on a growth strategy focused on targeted acquisitions, including providers of business process software, overseas resellers of Interactive Intelligence software products, and software development companies.

The tech acquisition that is still rippling through the local community was the May 2013 purchase of Indianapolis-based ExactTarget by Salesforce.com. Co-founded in 2000 by Scott Dorsey, Chris Baggott and Peter McCormick, ExactTarget was a leading cloud-marketing platform for more than 6,000 companies worldwide, including Coca-Cola, Gap and Nike. The $2.5 billion acquisition had an immediate impact on the local market as ExactTarget ramped up its hiring to take care of San Francisco-based Salesforce.com's marketing cloud unit.

The second impact is more long-reaching and similar to the impact the Software Artistry sale had in the late 1990s. The investors, principals, executives and tech gurus from ExactTarget leveraged buyout capital and experience to create other startups. Mike Langellier, CEO of TechPoint, called it "lending experience and wealth to help the next generation of tech successes grow."

Dorsey took his share of the sale and invested in such firms as Tinderbox, Lesson.ly, Bluebridge Digital, the Odyssey and Geofeedia. He also started tech-education not-for-profit Nextech in April and co-founded startup studio High Alpha in May. Traci Dolan, former ExactTarget chief administrative officer, invested in The Odyssey, Bluebridge Digital, 250k and Diagnotes, and serves as an adviser to Diagnotes and Recovery Force. Todd Richardson, former executive vice president of administration, founded Cadence Consulting and advises Branding Brand, Fatstax, Geofeedia, and Pactsafe. In September, he became CEO of contract-management software provider NTracts.

Mike Fitzgerald, former executive vice president of corporate development, co-founded Gravity Ventures and invested in Tinderbox, Lesson.ly, Geofeedia, and Visible.vc. He's now a partner with Dorsey at High Alpha. Steve Fouty, the former controller and finance project manager, founded Totally Whole Business Partners, and is an adviser to Healthiest Employers, Bindr and PolicyStat LLC.

Dozens of ExactTarget managers went on to serve in executive positions at startups like Studio Science, hc1.com, CloudOne, Return Path, Lesson.ly, Geofeedia and TinderBox.

As the Indianapolis tech community continues its growth, observers and investors scan the horizon for the next Software Artistry, ExactTarget or Aprimo. Some of the most-watched firms include Scale Computing, Smarter HQ, TinderBox, and hc1.com.

Scale Computing integrates storage, servers and virtualization software into an all-in-one appliance-based system that is scalable, self-healing and as easy to manage as a single server. It provides its system to a variety of clients, including school districts, colleges and universities, small businesses, foundations, and rural electric membership corporations.

SmarterHQ is a contextual marketing platform that converts customer data to insights, enabling businesses to lead relevant customer interactions across marketing channels. The company was founded by innovators with expertise in predictive analytics, retail and intelligent marketing, and its clients include Finish Line and Bloomingdales.

TinderBox, one of the firms that has benefited from the financial and human capital unleashed by the ExactTarget sale, was founded to provide sales teams a better way to create the assets they need to close deals. The 5-year-old firm raised $7 million in venture capital in October.

Founded in 2011, Hc1 sells cloud-based software that helps diagnostic labs and health care systems organize patient data, manage interactions and more. It raised $13.2 million in venture capital and venture debt in October. Both firms consider themselves pioneers in their respective fields.

Throw in Bluebridge Digital, The Odyssey, and Lesson.ly, and you have the candidates for what could well be the kickstarter for the next wave of high-tech development in central Indiana.•