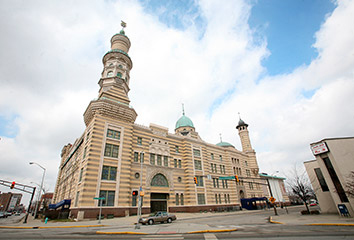 The group that owns the landmark Old National Centre entertainment and hospitality venue in downtown Indianapolis has decided not to sell the building.
IBJ reported in December 2014 that Live Nation had reached an agreement with the Murat Temple Association to buy the property at 502 N. New Jersey St.
But most of the 300 members of the Murat voted to rescind the contract, Larry Jefferson, the association's recorder, said Tuesday morning.
"It was overwhelming," Jefferson said of the vote, which quietly took place in September. "Unless we're offered a total windfall, you'll never see it come up for a vote again."
Beverly Hills, California-based Live Nation made an offer to Murat members to buy the building, prompting the vote, Jefferson said. He declined to divulge the amount of the offer.
The 130,379-square-foot building and land are assessed at a total value of $5.2 million, according to Marion County assessor records.
Live Nation did not respond to requests for comment.
The company operates the 2,600-seat Murat Theater, the multipurpose Egyptian Room and other venues in the building, which sits where East Michigan and North New Jersey streets intersect with Massachusetts Avenue.
The existing operating agreement the Murat has with Live Nation will remain in effect, Jefferson said.
"It's our heritage," he said of the building. "It doesn't make sense to move."
The temple indeed has a storied history. Built in 1909, it's the largest Shrine temple in the country and is named for the Frenchman Joachim Murat, who was one of Napoleon's generals in his Egyptian campaign.
Its architecture is based on Islamic temples found in the Middle East and Egypt. Features of the building include stained-glass windows, terra cotta trim, minarets, and brown and yellow brick banding. The Egyptian-themed auditorium, added as part of the 1922 addition, had been planned before the discovery of Tutankhamun's tomb, which coincided with the opening of the auditorium, according to the temple's history.
Purchasing the building could have expanded Live Nation's presence in the Indianapolis-area entertainment market. It owns the Klipsch Music Center in Noblesville. Live Nation leases, operates, books and/or has an ownership interest in 148 venues around the globe.
Live Nation Entertainment Inc. is publicly traded on the New York Stock Exchange. Shares were trading at $24.76 Tuesday morning, down from a 52-week high of $29.68.
Please enable JavaScript to view this content.