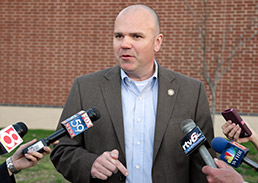 Mayor-elect Joe Hogsett is tapping a major player from Mayor Greg Ballard's administration to serve in a key post.
Hogsett announced on Tuesday that Troy Riggs, who served as public safety director under Ballard, will become Hogsett's Indianapolis Metropolitan Police Department chief. Current Chief Rick Hite will step down at the end of the year.
At a press conference, Riggs said he was eager to "get to the business of making this city safer" and hoped to "reduce crime and reduce the fear of crime." Riggs previously served for two decades as a police officer in Louisville, Ky. and as police chief in Corpus Christi, Texas.
Hite said he has enjoyed his time at the department.
"I have enjoyed my tenure as chief and thank all the dedicated employees of the department for their dedication and commitment to making this city safe," Hite said in a statement.
Hogsett also announced that current Indianapolis Fire Department Chief Ernest Malone will continue under his administration.
Hogsett directed the two men to "leave no stone unturned" when it comes to trying to turn around the city's recent crime wave. Indianapolis experienced 135 criminal homicides in 2014.
"I don't want to mince words: Indianapolis is experiencing a public safety crisis and we won't take back our neighborhoods without bold, inventive strategies," Hogsett said in a statement.
Please enable JavaScript to view this content.