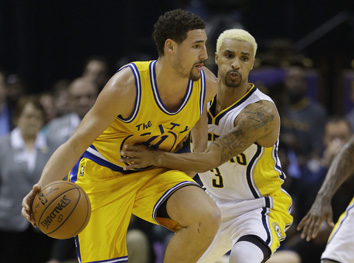 Well, wasn't that a pie in the Pacers faces? Actually, most of the time, Tuesday night was like Duke-Indiana. You can't say it any stronger than that.
It was the big date that ended up a bust, and when it was over—131-123, Golden State having lost interest after leading 109-77—somehow the Warriors left town looking even more perfect than they arrived. They're 23-0. Meanwhile, the Pacers are 0-1 in moments of truth against teams they want to be like.
You're wondering what happened, and why? We can take you back long before the tipoff. This was about 5:20 p.m., Bankers Life Fieldhouse was mostly empty, and Frank Vogel was in a hallway talking to reporters. The Warriors were playing small ball before teams such as the Pacers thought small ball was cool. Their ability to spread the floor and attack with speed and spacing is a model for Indiana to study and learn from.  "We're trying to execute some of the things they do,'' Vogel said. "They're light years ahead of us.''
Then they played the game, which was really a tutorial. Now we know what light years look like.
The Pacers are like young Luke Skywalker, trying to learn the ways of The Force. 
The Warriors are like a pack of Yodas, the Jedi masters.
The Warriors lead the NBA in scoring, shooting, winning.
The Pacers lead the NBA in guys named Hill. Three of 'em.
Stephen Curry had—for him—a pedestrian night, with 29 points. But Golden State still put up 79 by halftime, and broke 100 with 16 minutes left to play. That's because Klay Thompson was throwing in 10 three-pointers, and the rest of the team was running pick-and-rolls and getting point-blank looks at the rim, as Indiana's defense struggled to keep track of everyone.
For Golden State, dunks and 3-pointers went together Tuesday night like macaroni and cheese. So the good times roll on for a juggernaut that already owns more victories than four NBA teams did all of last season.
"It's impressive," Indiana's C.J. Miles was saying afterward. "They shoot the ball, that's what we all knew coming into the game. There's some video game type stuff going on over there."
But why?
"Spacing," Miles continued. "You have two of the best shooters in our league spaced. You've got a power forward (Draymond Green) playing point guard. They've got the league in a frenzy, trying to go in that direction. They just happen to have the right formula first. Everybody else is trying to figure out the spice, what spice they're using."
That would include the Pacers, going through their recipe book. But as Paul George mentioned, after 33 points, "We've got to be ourselves. We're not the Golden State Warriors. We're not trying to mimic them. I think the style of play is what we want to be like."
Vogel said, "This team can teach you a lot of lessons."
One lesson Tuesday was not to fall so far behind them. The Pacers made a stirring fourth-quarter run, but cutting 32-point leads to six won't get you very far.
Another lesson: The Pacers might want to consider a different defensive game plan next time against Golden State.
"We tried a different scheme today and that scheme didn't work for us," George Hill said. "They kind of exploited it."
Hill wouldn't say just what, but George would. It was trying to constantly switch to nullify the Golden State screens. "Obviously," George said, "we weren't  all the way tied together with this switching idea."
Yeah, you could tell by Warriors dunk-a-thon. Indiana has now given up 123, 122 and 123 points in a three-game losing streak. The defense needs something of a reboot.
Indianapolis saw close up how much fun Golden State's method is to watch, and play. How confident the Warriors are, as they steamroll the NBA.
"If I was a person that just sat home and watched the game, it's the greatest thing ever," Miles said. "A bunch of guys having fun, shooting threes, dunking, everybody's passing, behind the back passes. There's not a not a guy that plays basketball that wouldn't want to play that way."
Bottom line lesson Tuesday night? The Pacers' new age offense is not the Golden State new age offense. Not yet, anyway. Someone else will have to finally hand them a loss. Maybe Boston Friday, because the Warriors looked weary in the fourth quarter, as Indiana scored 40 points.
So this moment of December hype—the ticket scalpers were out in force on Pennsylvania Street by 3 p.m., four hours before tipoff—has come and gone with no end to Golden State's historic streak, nor any message to the league from the Pacers. Just a loss to a better team.
"It's one game of 82. This doesn't define our season. It's not like the championship game," George Hill said. "You guys (the media) make it a measuring stick. It's just one game for us.''
 So now what?
 "We've got to get back to us."
Please enable JavaScript to view this content.