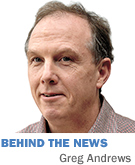 A year ago, Eli Lilly and Co. upped its cash dividend for the first time in 24 quarters, a resounding signal by company brass that the business was poised to grow again after patent expirations chopped sales from more than $24 billion in 2012 to less than $20 billion.

Lechleiter
"The increase in our dividend signals continued confidence in Lilly's future and confirms our commitment to return additional cash to shareholders," CEO John Lechleiter said in December 2014.

The quarterly increase wasn't large—just a penny per share. But the company added another penny on Dec. 8, bringing the dividend to 51 cents per quarter, or $2.04 per share annually. As savvy investors know, when companies consistently increase dividends year after year, those pennies, nickels and dimes add up, creating impressive wealth.

Indeed, Lilly has richly rewarded dividend investors over the years, increasing the annual dividend more than 40-fold since 1972. The company has paid a dividend since 1885, and until impending patent expirations spurred the company to forgo a dividend increase in 2010, it had announced dividend increases for 42 consecutive years.

At the company's current stock price—about $86 a share—the new, $2.04-per-share payout generates an annual yield of 2.4 percent, not too shabby in an environment where interest rates remain in the cellar.

Before Lilly's stock started marching higher in 2011, fueled by growing investor optimism that the company's R&D pipeline was flush with blockbusters, the yield topped 5 percent. (Because the yield is the annual dividend divided by the stock price, the yield falls as the stock price rises.)

The rich dividend, in fact, was a key part of Lilly management's strategy to keep investors from jumping ship during a span of unnerving uncertainty.

"We will continue to pay the dividend at least at its current level," Chief Financial Officer Derica Rice promised investors in the summer of 2011. "It is critically important to management, our board of directors and our shareholders, and we have no intentions of cutting it."

Promises aside, some investors worried Lilly's profit would fall so far the dividend would be unsustainable. At the new, 51-cents-per-quarter rate, the dividend will gobble up more than $2.1 billion a year.

Making dividend payments consumed 91 percent of the $2.3 billion in free cash Lilly generated over the last 12 months, according to the investment website Motley Fool, an unusually high ratio that gives the company less margin for error.

But that figure should fall sharply as sales start climbing again. The investment firm Credit Suisse projects Lilly revenue will rise steadily the rest of this decade, surpassing $30 billion in 2021—a 58 percent increase from 2014.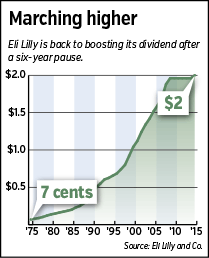 Credit Suisse, which has an outperform rating on Lilly, projects the stock might rise 22 percent, to $105, in the next 12 months.

Of course, if the shares perform that well, investors will be delighted by the price appreciation, and the portion of the return from the dividend will be gravy.

But there are no guarantees. At least investors in the meantime have the comfort of collecting a 2.4 percent dividend yield, which is far superior to the 1.99 percent yield for the S&P 500 overall.

The investment firm Merrill Lynch this month included Lilly on a list of four pharmaceutical companies offering the best combination of a robust dividend and strong growth potential.

The firm is high on Lilly's drug pipeline, including its Phase 3 Alzheimer's treatment solanezumab and the diabetes pill Jardiance, which the company and Germany's Boehringer Ingelheim GmbH introduced in the United States last year.

Lilly said in September that Jardiance cut deaths from heart attacks and strokes in thousands of patients, the first drug to show promise in helping subdue two of the world's most rampant health epidemics.•