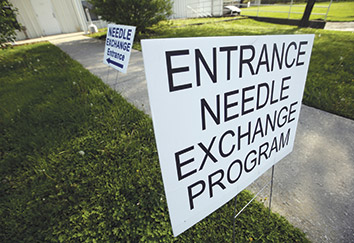 Southeastern Indiana was rocked this year by an HIV outbreak, primarily caused by the transmission of the virus through intravenous drug use.
The number of positive HIV cases in that area was 26 when the outbreak began almost a year ago. It has since skyrocketed to 184.
Earlier this year, lawmakers authorized needle-sharing programs for counties that could show they were facing significant problems related to intravenous drug use. But legislative leaders said Indianaresidents should expect them to try to find other ways to combat the epidemic.
House Speaker Brian Bosma, R-Indianapolis, said his priority is to put stricter penalties on drug dealers and manufacturers.
"We're the Crossroads of America, but we've also unfortunately become the crossroads for illegal drug manufacturing and distribution," Bosma said. "We need to take a hard look at the worst of these predators."
Senate President Pro Tem David Long, R-Fort Wayne, said the Legislature should also try to make treatment more widely available for those who are addicted to drugs. He said Indiana leaders should try to find a way to bring the cost of treatment down.
"It's becoming a big problem in the sense that it's very expensive to treat," Long said. "You can make an argument that those without means who get addicted are going to find it almost impossible to get treatment."•
Please enable JavaScript to view this content.