Credit and debit cards are accepted nearly everywhere these days, but houses of worship are still trying to modernize the way donations are collected.

Less than half of all churches nationwide allow some form of online giving, still relying on congregation members to carry cash or checks to services.

But that is slowly changing as religious entities embrace the growing number of options available for electronic or online donations—website forms, kiosks, text-to-give promotions, mobile apps and even a locally designed four-sided credit card device that can be passed like the collection basket.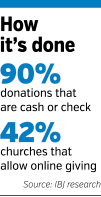 "It used to be cash and checks," said Mike Crull, operations pastor for Carmel-based Northview Church. "Well, very few

people nowadays carry cash and checks with them."

Religious leaders say churches usually gain more repeat donors when a variety of electronic giving opportunities are offered, and some see an increase in donations as high as 50 percent when using a new method.

Northview Church now collects 60 percent of its donations online, and recently started promoting text-to-give and installing kiosks in its lobbies to accept contributions. A postcard nestled in the backs of seats instructs churchgoers on the options.

"Any time you add an option, you gain," Crull said.

It started with churches accepting credit and debit card payments for special fundraisers and has evolved from there, according to Nancy Armstrong, finance director for the Indianapolis-based Center for Congregations.

Now, many churches have funds set up online and allow a variety of payment methods—donors can link different bank accounts, arrange regular check payments, or store credit or debit card information for future usage.

"The more ways you have to give and the more causes you can show a need, the more you will receive," Armstrong said.

John Koppitch, director of stewardship for Second Presbyterian Church in Indianapolis, said every week there could be 10-15 different funds or programs someone might want to select for his or her donation, which is why the church's website allows donors to select from a drop-down menu or write in a specific cause.

Church leaders say the benefit of online giving is that it typically leads to an increase in recurring gifts in addition to attracting new donors. It also allows church members to establish accounts and preferences so repeat gifts are easier.

"You can't count on one-time gifts," said Pastor John Freed with Noblesville-based Waterline Church. "With online giving, it's more consistent. That's what I do."

Next up, apps



David King, the Karen Lake Buttrey director for the Lake Institute on Faith Giving, said the next trend for online giving is mobile apps. Some churches create their own apps with donation capabilities for that institution or use e-giving apps that can be personalized.

"I think that's going to be a huge shift that we're already beginning to see," King said. "In many ways, that's becoming the majority way that many people give."

Indianapolis-based Givelify is one of several app options available to religious institutions. It launched two years ago and now has more than 3,000 churches in 30 states signed up.

"In size and denomination, they really run the gamut," Givelify's director of digital marketing, Matt Chandler, said of the company's clients.

Churches can set up different offering "envelopes" in the app, and individuals can create free accounts and specify where their donations should go. The app is free, but churches pay a fee of 2.9 percent plus 30 cents per transaction.

"Of course, we know it's not going to replace any other giving mechanism," Chandler said. "Some people are always going to write a check. … Some people are always going to put money in the basket."

Chandler said churches that regularly promote the app see an increase of 20 percent to 30 percent in donations.

One of the newer products spreading through Indianapolis-area churches—Pod Giving—is a small plastic square that has designated donation amounts on each of its four sides ($10, $25, $50, $100) and can be passed during a service like a collection basket. Churchgoers don't have to enter any information—just swipe a card on one of the sides.

Co-founders and Hamilton County residents Ben Royal and Michael Yonke said churches using the pod have typically seen donations increase 50 percent and the amounts given have ranged from $10 to $600.

The goal was to create a way to donate electronically during worship service that was as quick and public as passing the basket, to keep with church tradition.

"We truly believe we've created the simplest, fastest way to give," Yonke said.

While some churches have cut the offering plate from services, most keep passing the basket for the sake of tradition. But they're still searching for ways to incorporate online giving into the service, according to King.

Second Presbyterian Church, for example, added laminated cards about the size of a bookmark to the pews for members who are giving online to drop in the collection plate when it passes by.

"A stack of them builds up pretty quickly," Koppitch said, although only 10 percent of member households donate online.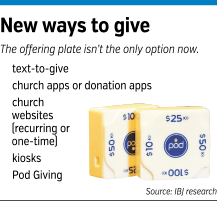 Armstrong said Pod Giving, which launched last year, could be another solution.

"That's relatively new," she said. "I'm not sure how that will catch on."

Mercy Road Church Pastor Josh Husmann participated in piloting Pod Giving for a year, even though he wasn't initially convinced it would work. The Carmel church tested it at a young-adult service on a Sunday evening, and its success pushed it into all services.

"I was just dead wrong," Husmann said, noting the church collects more than $6,000 with the pod every month while cash donations might be one-tenth that amount.

Freed, with Waterline Church, introduced the pod about three months ago and said he's excited about the device because it establishes repeat gifts.

"We found pod to be the easiest and most cost-effective," Freed said. "You just swipe it. That's it. It just opens up the doors for instant generosity."

Reservations

But even as many church leaders acknowledge the impact e-giving can have, some churches still struggle with the moral issue of accepting credit card payments.

"It's not something they want to introduce for the fear that they're putting people into debt," King said.

Another common concern is the security of taking credit and debit card information from donors, and the fees collected off the top of donation amounts. Pod Giving takes 3.5 percent of each donation, mostly to cover processing fees.

Fees are one reason even churches that embrace electronic and online giving typically still encourage members to link recurring donations to bank accounts because the method usually incurs the lowest fees.

The amount charged by processing companies varies among providers and sources of payments. But unless contributors are using cash or a check, the church will pay some kind of fee.

As the options for giving continue to increase, another burden is trying to keep accounts consistent and easy to use. For example, experts say a member of a congregation should only have to set up one profile to use a church's mobile app, website and kiosk.

"The common shortcoming of all of these," Koppitch said, "is, if I don't have an account already set up, how quickly can I make a contribution during the worship service?"•