The parent of City Securities Corp., Indiana's oldest investment firm and a powerhouse in the Indiana municipal bond business, finds itself at a crossroads with the May death of its 95-year-old vice chairman, Danny Danielson, and with his brother-in-law, Chairman John Peterson, approaching 83 years old.

With no one else from the Danielson and Peterson families—which own most of the stock in parent City Financial Corp.—holding leadership roles, speculation of a looming sale has swirled in the investment community.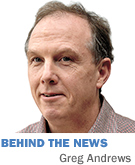 Adding to the chatter: The owners have hired the investment bank Piper Jaffray to help assess strategic options, according to sources familiar with the discussions.

John Peterson
John Peterson and City CEO Mike Bosway did not return phone calls. Bosway did respond to an email, saying, "I know why you are trying to contact me and there is absolutely nothing to talk about." In a second email, he wrote: "We have inquires all the time … have had for years. We are not seeking a buyer."

The comment does not rule out the possibility the firm is entertaining a suitor or suitors. A final email from Bosway offered no elaboration.

City Securities opened its doors in 1924, five years before the onset of the Great Depression. The founder was J. Dwight Peterson, John Peterson's father, who built a pre-eminent position in the municipal bond business that continues today. Over the last three decades, City has underwritten more than 60 percent of Indiana's municipal bonds.

City Securities has 13,000 customer accounts, which represent more than $4 billion in assets under management.

The firm long has used its relatively modest size to its marketing advantage. Prominent on its website is this quote from John Peterson: "We've always maintained that we're large enough to serve our clients' needs and small enough to know them personally."

City Securities is not without challenges. The firm lost some key talent in recent years, including Executive Vice President Bob Welch, who jumped to David A. Noyes & Co. in 2014. And rising interest rates are expected to tamp down City's muncipal bond underwritings after a frenetic run of refinancings.

In addition to City Securities, City Financial owns the insurance brokerage City Securities Insurance and City Real Estate Advisors, which syndicates low-income-housing tax credits for apartment projects. The three City Financial units collectively have about 230 employees.

City Real Estate Advisors, though little-known locally, has enjoyed a spectacular run since its founding in 2001. The firm marries federal tax credits doled out by states to subsidize affordable housing with investors and developers. CREA—which, in addition to Indianapolis, has offices in Boston; Austin, Texas; and Portland, Oregon—originated $450 million in tax-credit funds this year.

City Securities is among a dwindling number of regional brokerages in the United States. The ranks have fallen in part because of rising technology costs and an increasingly burdensome regulatory climate, especially after the financial crisis of 2007-2008. Industry data show the number of broker dealers has fallen 12 percent in the past five years.

In Indianapolis, one of City's chief rivals for years was locally based Raffensperger Hughes & Co., which was acquired by Cleveland-based National City Corp. in 1994. Another big player locally, Cleveland-based McDonald & Co., was acquired by Cleveland-based KeyCorp in 1999.

Observers say potential City acquirers include remaining regional players—such as St. Louis-based Stifel Financial Corp., which already is a powerhouse locally; and Milwaukee-based Robert W. Baird & Co.

It's not clear whether a single buyer would want all three disparate businesses, or there would be separate acquirers.

Questions of family succession have hung over City for years. John Peterson has a son, Pete Peterson, who is a City Securities broker, but he is not involved in management.

Those questions intensified after the 2013 death of Danny Danielson's wife of 66 years, Patty Danielson, daughter of J. Dwight Peterson. She was the first of the second generation of Petersons to pass away.

Danny Danielson's death was an especially big psychological jolt for City. A beloved figure at the company and in the Indianapolis business community, Danielson lived in New Castle and drove to work every day—always outfitted in a suit—until health problems in his final months of life made doing so impossible.•