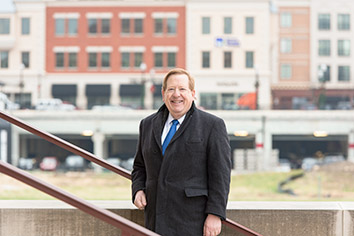 Carmel Mayor Jim Brainard traveled out of state using public money nearly every month this year.
His trips aren't lavish. He flies coach and doesn't stay at extravagant hotels. He uses Uber and public transportation to navigate the cities he visits. He receives a daily food allowance, per Carmel's policy.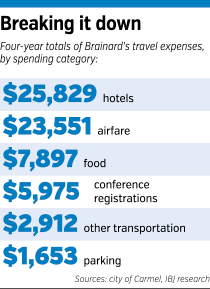 But he's gone on city business a lot. A total of 79 days in the past year and 189 days in the four-year term he's just completed.
In 2015, the city reimbursed Brainard for $20,170 for expenses related to nine trips to six destinations and a conference registration for next year. He also took two trips paid for by federal officials.
He regularly travels out of state (and sometimes out of the country) to attend conferences, speak at gatherings, and meet with leaders in the private and public sectors.
In the last four years, Brainard spent $67,818 on 36 trips.
Brainard said his traveling benefits the city—promoting Carmel in national media outlets and securing economic development deals. And those who are least hesitant to criticize Brainard on other issues don't deny that.

Snyder
"We have been amazingly generous, understanding that you have to spend a little money to make a little money," said outgoing Carmel City Council Finance Committee Chairwoman Luci Snyder. "Look at the amount of money he spent. We never questioned it."
But because he was on a trip, Brainard missed a key City Council meeting Dec. 14 and was therefore unable to break a tie vote on one of his own proposals. Since then, Brainard's absences have become a bigger talking point. He was traveling with the U.S. Department of State to Germany and India—and those excursions kept him away from Carmel for most of November and half of December.
"I've been asked, 'What's he doing out of the country all the time?'" Snyder said.
This year, Brainard visited Washington, D.C., three times, New York City twice and London, San Francisco, Los Angeles and Madison, Wisconsin, once in addition to two trips paid for by the U.S. State Department.
The most expensive trips for the city were the excursions to London and San Francisco as well as Brainard's first 2015 outing to D.C. in January. During his trips this year, he participated in several events for the U.S. Conference of Mayors, served as the keynote speaker for multiple organizations, attended a sustainability forum, and discussed climate change with national and international officials.

Brainard said he prioritizes his trips based on the ability to learn about other fast-growing communities and city design and on conferences geared toward suburbs similar to Carmel.
"It's about getting out and knowing what the competition is doing," he said. "I really see it as part of my job."
Jamie Palmer, senior policy analyst with the Indiana University Public Policy Institute, said there's no standard for how much a mayor should spend on travel or should be away.
"It would take a lot for it to be too much," Palmer said. "If someone is on a national committee or something, it is not a small commitment … but the benefits could be great."
On the other end of the spectrum is Fishers Mayor Scott Fadness, who just finished his first year as mayor. He took only one business trip in 2015, and it was within the state's borders.
In October, Fadness attended the Indiana Association of Cities and Towns annual conference in French Lick. The city paid $484 for a hotel room, conference registration and a food allowance.
Promoting Carmel
Paul Helmke, former three-term Republican mayor of Fort Wayne and professor at Indiana University's School of Public and Environmental Affairs, said he thinks mayoral travel is beneficial to municipalities because it spreads awareness of the city and allows the mayor to establish contacts that could boost economic development.
When Brainard took office in 1996, Helmke was entering his last term as mayor.
"Back then, when people saw the name Carmel, they thought that it was Carmel-by-the-Sea," Helmke said, referencing the city in California. "Now when they see Carmel, they know it's Carmel. They know where it is and they have a good, positive reaction to it, and I think a lot of that is because of Jim Brainard's travels and activities."
Brainard points to his visits to San Diego in 2013 as proof that his travel helps the city.
In August that year, wellness program provider American Specialty Health announced plans to invest $10 million in the area and move its headquarters to Carmel, creating 675 jobs in three years.
Brainard flew to San Diego in April 2013 for five days and again in July 2013 for two days to meet with company executives and persuade them to relocate. The two trips cost a total of $2,593.
"Headquarters moves are few and far between," Brainard said. "It paid off."
But not every trip is successful.
In August 2015, the mayor traveled to D.C. for two days to meet with federal officials to discuss the city's Transportation Investment Generating Economic Recovery grant application. Still, Carmel was passed over for the $19.4 million grant, which would have gone toward building a roundabout at 96th Street and Keystone Avenue.
The trip cost $1,090 for a flight with US Airways, one night at the Capital Hilton, two days of parking at the Indianapolis International Airport, two taxi rides and a daily food allowance.
Most recently, Brainard went to India Nov. 6-25 and then to Germany Nov. 30 to Dec. 14. He returned to Carmel between destinations for Thanksgiving.
Both trips were funded through the U.S. State Department. He spoke to a variety of organizations and met with leaders to discuss climate change and expanding cities.
Missed vote
Though the trips didn't cost city taxpayers, Brainard's absence had consequences.
At a meeting Dec. 14, the City Council split 3-3 on an ordinance needed to appropriate funds to pay the city's bills for the rest of the year, which left officials scrambling to find a different solution.
Brainard could have broken the tie had he been at the meeting, and he said he tried to do so via email, but the council already had moved forward with plans to borrow the funds from the Carmel Redevelopment Commission.
"That was the first time I remember something like that happening," Brainard said. "City Council meetings generally don't require my presence."
Andrew Downs, director of the Mike Downs Center for Indiana Politics, said mayors should try to avoid travel that overlaps with important meetings.

Downs
"That's a problem, especially if you know it's going to be a tight vote," he said. "Given the relationship [Brainard] had with some of those council members … he probably should have been expecting a little discontent."
Brainard said he didn't know council member Ron Carter, a longtime supporter of the mayor, would be absent as well when he arranged to be out of the country.
And unlike most other mayors, Brainard does not appoint a temporary chief executive to serve in his absence. In other places, a deputy mayor or city controller would fill that role. But Brainard said it's unnecessary "because I'm reachable.
"I had better cell service in India than I do in some parts of Carmel," he said.
Brainard said he regularly emails and talks to his department heads and responds to constituent concerns while he travels. The mayor said if he ever ventured somewhere without cell phone service, he would appoint a temporary executive.
Snyder agreed that the mayor is reachable, but she said his absence slows down daily tasks.
"Everything has to be faxed or emailed to him," she said. "I think he's gone too much."•
Please enable JavaScript to view this content.