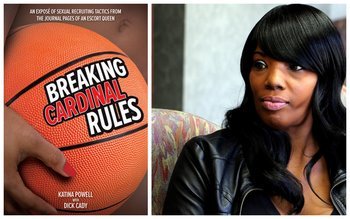 A frustrated Rick Pitino said Friday the NCAA has not interviewed him about an escort's book allegations of sex parties at Louisville players' dormitory and doesn't believe the scandal will be resolved until summer.
At the end of a news conference previewing Louisville's Atlantic Coast Conference opener against Wake Forest, the Cardinals coach answered an initial question about whether he made an obscene gesture to Kentucky fans following last week's loss—he has said he didn't—before going on an unprompted diatribe about the sex scandal surrounding his program.
In a book released by Indianapolis-based IBJ Book Publishing—a sister publication to IBJ—Katina Powell has alleged former Louisville staffer Andre McGee hired her and other dancers to strip and have sex with recruits and players. Pitino has denied knowledge of the allegations but said Friday he believes one person did "some scurrilous things."
Pitino didn't mention McGee as the person in question.
But the coach said, "Did one person do some scurrilous things? I believe so, from what I know now. The only thing I don't know is why he did it. For the life of me, I can't figure it out. …. He knew better and was taught better by his parents and by me."
Pitino launched into his first lengthy comments about the scandal since late October after talking about Sunday's game.
Pitino railed against media outlets for giving Powell a forum to lay out allegations he has denied knowing about and also questioned. He also has concerns about some of the reporting that has been done, as well as how the journal, which the book was based on, was put together. He said some of his concerns were raised during a meeting between Louisville athletic officials and IBJ Book Publishing before the release of "Breaking Cardinal Rules: Basketball and the Escort Queen."
"You mean to tell me a four-year record was kept? There was no four-year record that was kept, come on," said Pitino, adding that the school has been wronged. "You've got to be kidding me. …
"Here they're saying they kept a journal for four years and can't complete two sentences? Something's not right here."
Powell's attorney, Larry Wilder of Jeffersonville, Indiana, has stood by his client's accounts in interviews and said Friday in a lengthy text to The Associated Press that the NCAA went through each page of Powell's five journals.
"I appreciate Coach Pitino's position. I understand that he is hopeful that these things didn't take place," Wilder wrote. "However, the NCAA will render their opinion when they complete their full investigation and I am confident that their opinion will be reflective of the totality of the evidence and the circumstances."
Pitino recently has not been available often to talk about the scandal. He did not speak at ACC media day on the advice of counsel and has skipped several postgame interviews, often sending assistant coach Ralph Willard in his place — including last Saturday against the Wildcats in Lexington.
He did, however, have plenty to say on Friday.
"I'm not going to say, no comment," Pitino said before wishing reporters Happy New Year. "I'm too old, I don't care. The one good thing about being 63 is that you just don't care anymore."
Four investigations are pending, including ones by the NCAA and the Commonwealth's Attorney in Jefferson County. Noting college sports' governing body's lengthy investigations of North Carolina and Syracuse, Pitino said he thinks the earliest the issue might be resolved would be July.
"I want the truth, the whole truth and nothing but the truth," Pitino said before adding, "and I want to clean it up if there's some things that have to be cleaned up."
Please enable JavaScript to view this content.