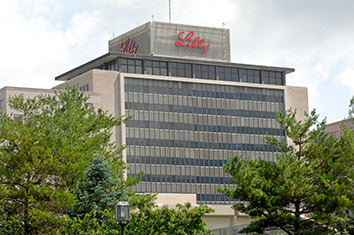 Eli Lilly and Co., which has promised to return to growth after a half-decade of falling revenue, indicated that 2016 earnings might be below analysts' estimates.
Sales this year will be $20.2 billion to $20.7 billion, and earnings excluding one-time items will be $3.45 to $3.55 a share, the Indianapolis-based drugmaker said in a written statement Tuesday. Analysts have predicted sales of $21.4 billion and adjusted earnings of $3.65 a share, according to data compiled by Bloomberg.
After losing patent protection for two of its biggest drugs in 2011 and 2013, Lilly began its comeback last year, beating analysts' earnings estimates in the first three quarters. For the three months ending Sept. 30, key drugs exceeded expectations, as the insulin Humalog and the erectile dysfunction drug Cialis both brought in more than projected.
"Lilly's initial annual guidance is generally in-line to conservative," Mark Schoenebaum, an analyst at Evercore ISI, wrote in a note to clients before Lilly released the guidance.
Lilly maintained its adjusted earnings forecast for 2015 of $3.40 to $3.45 a share.
Lilly, also known for the erectile dysfunction drug Cialis and its portfolio of cancer treatments, has been recovering from the loss of patents protecting key products like the antidepressant Cymbalta from cheaper generic drugs. The company has invested heavily in developing new drugs, and that portfolio includes potential cancer treatments and an Alzheimer's disease drug in late-stage testing. Lilly now has nine potential treatments or diagnostic agents that are either in late-stage clinical testing or have been submitted for approval.
"The pipeline looks good, and the (company's) revenue is likely to hit expectations over a longer term," said Erik Gordon, a professor at the University of Michigan's Ross School of Business who follows the pharmaceutical industry.
He added that analyst projections for Lilly's 2016 earnings and revenue may have been a little aggressive.
Shares of Lilly climbed 2.6 percent, or $2.13, to $85 each Tuesday morning after it released its forecast. Broader indexes rose slightly.
Lilly's stock soared 22 percent in 2015 and reached its highest prices in about 15 years before closing the year at $84.26 per share. Meanwhile, the broader Standard & Poor's 500 index fell less than 1 percent.
The company plans to detail its fourth-quarter and full-year performance Jan. 28.
Please enable JavaScript to view this content.