Tom Wood Lexus is continuing the recent trend of car dealerships remodeling and expanding in Carmel.
Tom Wood Automotive Group is adding 21,400 square feet to its existing 39,382-square-foot Lexus dealership at 4610 E. 96th St.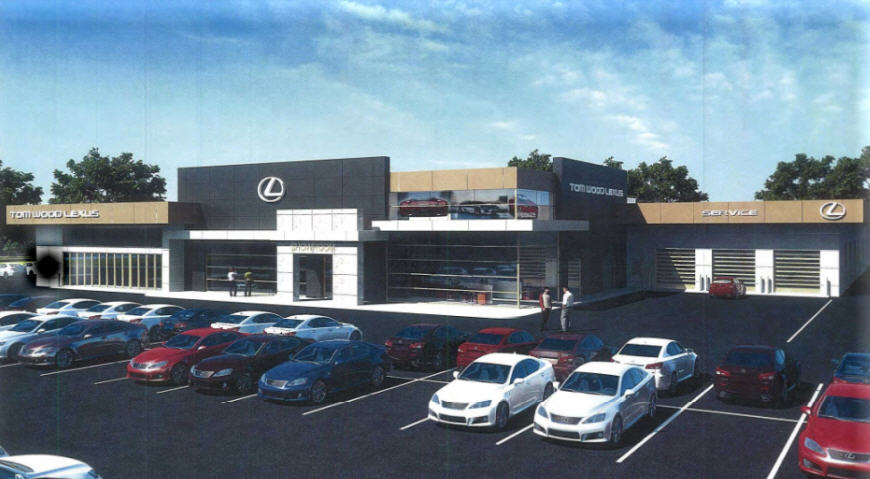 The expansion would add a second floor to the building (see rendering at right), increase the size of the service department and create a mezzanine for a "state-of-the-art" automatic conveyor car wash that limits the amount of water entering the sewer system, according to Paul Reis, a partner with Krieg DeVault and attorney for Tom Wood Automotive.
The second-floor addition will be used for offices, conference rooms, break rooms and new restrooms. New LED light fixtures are planned throughout the property, and an illuminated graphic displaying vehicles will fill the windows on the second floor.
"It really will fit in well with the rest of the dealerships along 96th Street," Reis said.
The Carmel Plan Commission approved the project Tuesday night, but the company still needs the Board of Zoning Appeals to OK several details.
Tom Wood Automotive is also adding 24,000 square feet to its nearby Ford dealership at 3130 E. 96th St., and Penske Automotive Group is adding 100 parking spots for more inventory at Penske Chevrolet at 3210 E. 96th St.
Butler Auto Group is constructing a 21,967-square-foot Maserati, Alfa Romeo,and Fiat dealership just to the west of Tom Wood Lexus at 4200 E. 96th St. The facility will be built on 1.4 acres adjacent to the existing 37,000-square-foot Butler Hyundai dealership.
Please enable JavaScript to view this content.