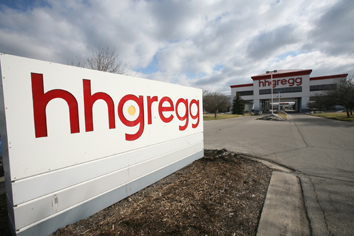 Shares in Indianapolis-based HHGregg Inc. fell 30 percent Wednesday morning after the retailer announced a disappointing financial performance during its latest fiscal quarter.
The electronics and appliances retailer said store sales fell 11 percent in the quarter ended Dec. 31—compared to the same period last year—an erosion led by fewer purchases of appliances, computers and tablets.
Sales for its fiscal third quarter were $593 million, compared with sales of $666 million during the same period of the previous year, the company said.
The figures were preliminary. HHGregg isn't scheduled to announce official results until Jan. 28.
The company's stock traded at $2.75 per share just before noon, down 28 percent from Tuesday's closing price. Shares were down as much as 31 percent earlier in the morning.
Sales for store locations open at least a year—a key metric in retailing known as comparable-store sales—also fell 11 percent, with appliance sales down 10 percent and consumer electronics sales off 8 percent. Computer and tablet sales dropped 35 percent.
"During the quarter, we were challenged by the competitive pressures in the market," said CEO Dennis May in a written statement. "Although we are disappointed with our overall performance during the quarter, we are pleased with many of the strategic investments we have made for our transformation."
That transformation includes the company's foray into the home furnishings market, which May told IBJ last fall is a "very high-margin category, which is attractive to the retailer. We also see it fitting the consumers' needs."
On Wednesday, May said the comparable store sales in the furniture category increased roughly 16 percent during the quarter. In addition, the company's focus on large-screen premium video drove 59 percent of TV sales in the quarter, up from 50 percent in the second fiscal quarter.
HHGregg didn't announce earnings figures Wednesday, but it said it expects to take a one-time non-cash charge of $15 million to $25 million in the latest quarter for "asset impairment of certain locations." The company lost $86.9 million, or $3.10 per share, in the year-ago quarter.
May also said the company remains "on track to achieve more than $50 million of cost savings in fiscal 2016." The retailer was on track to to generate positive earnings before interest taxes, depreciation and amortization, or EBITDA, for the fiscal year, he said.
HHGregg has been focusing on the sales of 4K televisions, which have a significantly higher resolution. May told IBJ he expected "this is going to be a 4K holiday. The product is finally right for the consumer. You're going to have 4K curved, really beautiful television sets coming into what I would call power-alley price points."
Founded in 1955, HHGregg is a multi-regional retailer with 227 stores in 20 states. But the public company has struggled to maintain market share as sales of flat-screen televisions fall and online and bargain retailers become more prevalent.
Since going public in 2007, the firm has seen its shares hit $30 in 2010 and descend as low as $3.17 in the last year. Shares closed Tuesday at $3.82.
Please enable JavaScript to view this content.