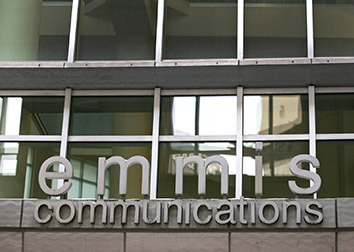 Emmis Communications Corp. cut 32 employees and chopped the pay of all senior executives Wednesday on the eve of an earnings report that shows both overall revenue and radio station revenue fell more than 5 percent in the quarter ending Nov. 30.
Emmis CEO Jeff Smulyan, who called the cuts "very painful," Thursday morning during a conference call, said the job reductions represent about 3 percent of the company's workforce. A source familiar with company operations said the layoffs included only a "handful" of Indianapolis-based workers.
The goal, Smulyan said, is to reduce the operations budget for the Indianapolis-based media company by $7.5 million in the next fiscal year, with $5.3 million coming from radio, $1.5 million from publishing and $700,000 from corporate.
Emmis on Thursday reported fiscal third quarter revenue of $59.6 million, down from $63 million in the same period a year ago. Radio revenue dropped to $42.6 million, down from $44.9 million.
Still, the company reported higher profit—$5.5 million, or 12 cents per share, in the quarter. That's up from $2.8 million, or 7 cents per share, in the same quarter a year ago.
The personnel cuts included only one on-air employee: Mike Corbin, a news anchor and reporter for WIBC-FM (93.1), who confirmed the job loss Wednesday on his Twitter account.
"I'm no longer employed at WIBC," wrote Corbin, who joined the station in June 2011. "Corporate cost cutting, but we parted on GREAT terms. We'll see what the future holds. I wish everyone at WIBC and Emmis the best. Are corporate pr/media in my future? Hmm. We shall see."
Another casualty was high-profile New York market manager Deon Levingston. Smulyan said long-time Indianapolis market manager Charlie Morgan would oversee the New York market "for six months or so" in addition to handling his local duties.
Emmis said its station operating income for the third fiscal quarter was $16.3 million, compared to $18.1 million for the same quarter of the prior year. The company considers radio station operating revenue a key performance measure, but the business segment has struggled in recent years as listeners moved to other entertainment and audio-delivery options. The company owns 19 FM and four AM radio stations in New York, Los Angeles, St. Louis, Texas, Indianapolis and Terre Haute.
Emmis said its radio stations in Indianapolis, St. Louis, and Austin all beat their markets for the quarter. Its radio station in Los Angeles, KPWR-FM, made up nearly all of the radio division's shortfall against its markets due to the launch of a new direct competitor last year, the company said.
"Radio industry growth has been disappointing in 2015," said Jeff Smulyan, CEO of Emmis, in a statement issued early Thursday.
He said revenue for the overall markets where the station competes were down 2.4 percent for the first 11 months of 2015.
"This general decline, coupled with the competitive situation in Los Angeles, led us to take a series of steps yesterday, including staff reductions and pay cuts for senior executives, to restructure our expenses to better align them with the current operating environment," Smulyan said.
"We remain confident that we have the best team in media and the solution, in NextRadio, to return the radio industry to growth," he said. "Our ratings are quite strong in most of our markets, and our investments in content, sales hiring and training, and NextRadio and Digonex will begin to yield stronger results in 2016."
NextRadio is an industry-wide initiative led by Emmis that brings terrestrial FM radio to the smartphone. It uses an FM chip that's in all smartphones but is deactivated by most U.S. carriers. Emmis has been working with those mobile phone carriers to get the chips activated.
Emmis' publishing division revenues were down 7 percent for the quarter and are flat year to date, the company said.
The company's stock has been in an ongoing struggle and is in danger of being delisted from the Nasdaq Stock Market.
Emmis shares closed Wednesday at 68 cents each—the 51st straight trading day the shares have closed below the Nasdaq's $1-per-share requirement. The last time Emmis stock closed at $1 or more was Oct. 22.
Smulyan told investors Thursday morning that there's reason for optimism, noting that market share in Indianapolis, Austin and St. Louis grew year-over-year,  and that 2016 will be the year the Next Radio initiative "turns the corner."
"This is what gives us hope," Smulyan said. "We see bright spots on the horizon."
Smulyan said radio revenue will be boosted in 2016 by the presidential and other political campaigns and by the Olympics in Rio.
 
Please enable JavaScript to view this content.