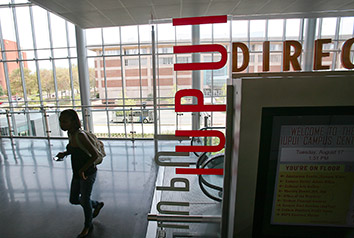 If you sent a tweet about the Big Ten Football Championship, the new IUPUI Sports Innovation Institute knows about it.
The institute—which was officially launched this month—is gathering and analyzing all tweets about the game played at Lucas Oil Stadium in December, and plans to relay that data to local organizers, who hope to use it to host additional successful sporting events here.
That project, said IUPUI officials, is the first of many that will connect the school's new institute to area sports-related businesses and organizations.
IUPUI officials are calling the institute a first-of-its-kind interdisciplinary initiative involving eight departments: Informatics and Computing, Physical Education and Tourism Management, the Robert H. McKinney School of Law, Engineering and Technology, Liberal Arts, the Herron School of Art and Design, Public and Environmental Affairs, and the Kelley School of Business.

 Gladden
"You don't see these types of collaborations outside major federally funded health and science initiatives," said Jay Gladden, dean of IUPUI's School of Physical Education and Tourism Management. "I don't think this could happen in many places besides Indianapolis because of the unique sportscape here and IUPUI's deep desire to collaborate with the local business community."
The primary thrust of the institute, Gladden said, is to elevate the status of Indianapolis "as a hub for innovation and as a sports capital."
In addition to working on projects with outside organizations, the institute will offer undergraduate and graduate degrees to students in addition to non-degreed programs to the public.
The Sports Innovation Institute is the brainchild of Gladden and Gary Roberts, former dean of the McKinney School of Law who is now president of Bradley University in Peoria, Illinois. Planning for the institute started more than three years ago, Gladden said.
Gladden, who has a doctorate in sports management, will be the institute's executive director until money can be raised for a full-time director, in one to three years, university officials said.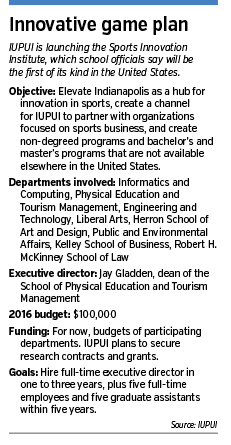 "In three to five years, we envision having five full-time staffers and five graduate students," Gladden said.
That staffing level will require significantly more fundraising. This year, the Sports Innovation Institute will have a $100,000 budget, which will come from budgets of the IUPUI schools involved. Gladden called that "a starting point."
The goal is for the institute to sign deals with private sports organizations for research and other projects that will bring in significantly more revenue.
"I'm optimistic we're going to be able to announce agreements with several marquee organizations in the first half of this year," Gladden said. "I think those projects will be good illustrations of what the institute can do."
He declined to elaborate until those deals are signed. He also declined to say what the institute's annual budget could grow to.
Already, Gladden has enlisted the support of the Indiana Sports Corp., USA Football, American College of Sports Medicine, Indiana Pacers, Visit Indy and the Central Indiana Corporate Partnership.
ISC President Ryan Vaughn said the institute will "be a great resource" and provide information key to his organization in "presenting competitive bids for future events."
"As we studied the possibility of launching this institute, what became clear is we had some really interesting opportunities to pair expertise we had on campus with initiatives we had or could have in the community," Gladden said.
He emphasized the institute will be looking to partner with for-profit and not-for-profit organizations big and small.
"This goes beyond the Pacers, Colts, Indianapolis Motor Speedway and NCAA," he said. "We have a diverse array of companies in this area working in the sports industry."
One of the institute's main thrusts will be helping startup sports companies launch services and get products to market by assisting with things like mapping out a business plan, market research, marketing and distribution.
"Our studies show that two-thirds of the economic impact in the sports industry is not related to the highly visible organizations," he said. "What we hope to do is partner with the community to help grow the entire sports economy here."
In preparation for launching the institute, the Indiana University Public Policy Institute conducted a baseline study of the annual economic impact of sports, from professional franchises to Little League Baseball, in central Indiana. The study found sports activities generate annual revenue of $3.4 billion.
"That's a big number," Gladden said. "That's nearly 20 times the estimated impact of hosting the Super Bowl. We think we can help grow that number."
The institute will offer students a five-year program that will culminate in a master's degree. Under the integrated degree program, students earn a bachelor's in tourism, convention and event management with a sports-management emphasis from IUPUI's School of Physical Education and Tourism Management, and a master's in informatics with a specialization in sports analytics from the School of Informatics and Computing.
The deals with outside organizations "will create research opportunities and real-world experience" for students in the program, Gladden said.
The institute also will start the Next Level of Coaching Academy, an online development academy designed "to develop coaches into high-performing, ethical and diverse leaders," he said.

Thompson
Milt Thompson, an attorney and president of locally based sports marketing consultancy Grand Slam Cos., said the institute will have a double benefit.
"I think it will serve to attract young, talented people interested in learning about and working in the sports-business sector. And by helping grow companies in that sector, will give that young talent a reason to stay here," said Thompson, one of the early architects of the initiative to make Indianapolis a sports hub.
While Thompson applauded combining the resources of eight IUPUI schools, fellow Indianapolis sports marketer David Morton said that could be problematic.

Morton
"The concern with having eight departments involved is having mixed messaging," Morton said. "You have to ask what experience they have working across departments. That's going to be very challenging."
"The institute absolutely can be helpful to the local sports business industry," Morton said. But he added it will have to prove it can "move at the pace of business. Academic institutions are known for working at a snail's pace."•
Please enable JavaScript to view this content.