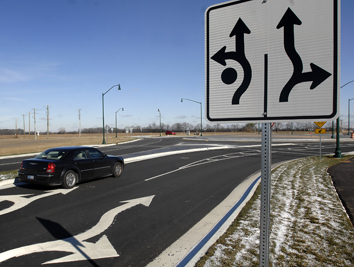 The city of Carmel is facing a class action lawsuit in federal court for its enforcement of a local traffic ordinance a state appeals court has already struck down.
Attorney Edward Bielski, president of Bielski Law LLC and former partner of Stewart & Irwin P.C., filed the lawsuit on behalf of Greenwood resident Lawrence Lennon and Fishers resident Robert Sanford in  U.S. District Court in Indianapolis on Dec. 30.
The complaint argues that the city knowingly enforced an illegal traffic ordinance and wrongly collected money from citations issued based on the traffic infractions "for the purpose of maximizing revenue to the city of Carmel." It also alleges that the city should have been required to share that revenue with the county and state.
The class-action lawsuit involves "thousands of invalid traffic tickets in 2014 and 2015," which is believed to involve more than 1,000 individuals. 
"Carmel is attempting to hijack Indiana's laws and call them local ordinances," Bielski said in a written statement.
The lawsuit is an attempt to stop the city from wrongly collecting fines, clear motorists driving records of the invalid violations and recover money that motorists should not have been forced to pay, according to a press release from Bielski's law firm.
In addition to the city, the complaint also names the Carmel City Council and each member serving in 2014 and 2015 individually as well as Mayor Jim Brainard, the Carmel Police Department, Carmel Police Chief Timothy Green, the city's legal department and city attorney Doug Haney.
The complaint says the plaintiffs were stopped by police for citations that were illegal and the encounters deprived individuals of their liberty interests.
It argues that the plaintiffs are entitled to a list of damages, including fines from citations, court costs, deferral program costs, attorney fees, damages related to negative treatment of an individual's driving record, additional insurance costs as a result of citations and loss time from work due to attending court or resolving a citation.
It does not attach a monetary value to the damages. According the press release, Bielski's law firm is still investigating how much money Carmel collected that should have been shared with the county and state and how many individuals the lawsuit could involve.
"We will be amending the complaint to include additional potential class representatives in the coming weeks," Bielski said.
Carmel spokeswoman Nancy Heck and Brainard did not respond to IBJ's request for comment. None of the defendants have replied to the complaint in court.
Earlier in December, the Indiana Court of Appeals repealed the traffic ordinance in question, saying it was merely a duplicate of already existing state law, which is not allowed under Indiana's Home Rule act. In that case, a driver had been pulled over and cited for driving 30 mph in a 20 mph speed limit construction zone.
Brainard has publicly said the city doesn't agree with the Court of Appeals decision and was considering whether to appeal the ruling to the Indiana Supreme Court. No appeal has been filed yet.
Please enable JavaScript to view this content.