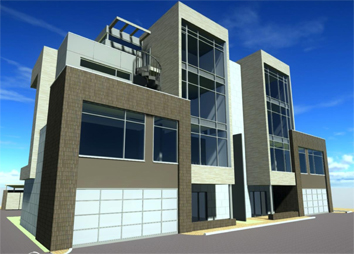 A local restaurateur plans to build two luxurious townhomes downtown on property just south of where his latest eatery is set to open next month.
Mike Cunningham and business partner Patrick Heitz received approval on Wednesday from the Indianapolis Historic Preservation Commission to move forward on the construction of the two, $1 million condominiums.
Cunningham in the past six years has opened Mesh, Bru Burger and Union 50 on Mass Ave, and is set to launch his latest creation—Vida—where Amici's Italian Restaurant once stood.
That project, at 601 E. New York St., includes a major revamp of the 150-year-old building and the construction of a structure on the adjacent parking lot to the east. Cunningham bought the lot to the east and the warehouse to the rear where the two condominiums will be constructed from the Buchanan Group, whose headquarters is nearby at 600 E. Ohio St.
The two townhomes, measuring 4,500-square-feet each, will be constructed as one building and will sit behind Vida, where a one-story warehouse now stands. Cunningham uses part of the building for storage and is leasing the remainder temporarily to e-commerce retailer SupplyKick.
Plans call for the warehouse—built in two stages, in 1956 and in 1964—to be demolished to make way for the condos and an 18-space parking lot to accommodate Vida diners.
"We wanted some of the ground for parking," Cunningham said.  "That really gave us a fairly small footprint to work with, and it's a pretty desirable area, with Lockerbie. [Condos] seemed to make sense."
In addition to serving as a restaurant, Vida will serve as a test kitchen for all of Cunningham's concepts. The restaurant is expected to open Feb. 2 and will feature a rotating menu of 12 to 15 entrees priced between $8 and $30.
Menu changes at his establishments typically are done without much forethought, prompting the idea for a test kitchen, Cunningham said.
He also operates Charbonos in Avon, Boulder Creek Dining Company in Brownsburg, and Stone Creek Dining Company outposts in Greenwood, Noblesville, Plainfield and Zionsville.
The two, four-story townhomes south of Vida may seem "incongruous" with the surrounding Lockerbie Square neighborhood, IHPC said in its report. But the building will look much more like a three-story structure because the fourth floor is much smaller in relation to the other levels.
Further, the five-story Maxwell apartment building at the southwest corner of Park Avenue and Miami Street sits diagonally across from where Cunningham's condo building will be constructed, IHPC said.
"It should only be visible when looking directly down North Park Avenue, and even then it will appear as a 'background' structure," IHPC wrote in its report.
This is the second downtown residential project that Cunningham and Heitz have undertaken.
The two purchased a vacant 32-unit apartment complex in March 2013 at 733 N. Capitol Ave. that had been plagued by numerous code violations under previous ownership.
Louisville-based Stock Yards Bank & Trust had taken ownership of the building, formerly known as the Di Rimini, in 2012 after foreclosing on a $2.8 million loan to the original developer.
Cunningham and Heitz pumped $1.5 million into the project, now called 733 in a nod to its street address, and just finished rehabbing four of five penthouses. The rest of the building is fully occupied.
 
Please enable JavaScript to view this content.