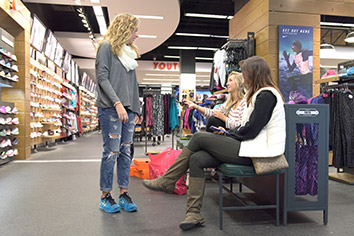 The Finish Line Inc.'s disastrous third quarter stemmed from management miscues, a well-worn story that has made some analysts skeptical that incoming CEO, Sam Sato, will usher in better times.

Sato
The company on Jan. 7 said the 51-year-old Sato, a Finish Line executive since 2007, will move into the top post in February, replacing Glenn Lyon, 65. In the same announcement, the company said it was closing 150 stores over the next four years after losing $32.5 million in sales in the quarter ended Nov. 28.
Lyon attributed the steep sales decline to the failed launch of a new warehouse and order-management system that disrupted the supply chain, leaving stores and the company website with fewer items to sell.
"Finish Line hit us over the head with another self-inflicted blunder in 3Q," Paul Trussell, a research analyst at Deutsche Bank, said in a research report.
Analysts have grown weary of execution failures. One of the biggest came in December 2012, when the company pulled the plug on a new website, four days before Black Friday, after encountering numerous problems. The company's then-chief technology officer resigned the following February.
Lyon
Last fall, Lyon acknowledged to analysts it was time to "put up or shut up" after the chain, which has 617 stand-alone locations and another 394 shops inside Macy's stores, failed to get hot new men's running shoes on shelves fast enough.
Now, Finish Line not only is changing CEOs but searching for another chief technology officer while also looking to add a head of supply chain management and a board director seasoned in the retail and digital realms.
Finish Line declined to make Sato available for an interview, saying he would detail his vision for the company once he became CEO. Finish Line also declined to comment on the other personnel changes.
The changes come as the company's shares weather a long swoon. The stock now fetches around $16.90, down 72 percent since August.
Whether the latest moves are enough to right the ship is up for debate among analysts.
"We remain on the sidelines as any turnaround plans laid out by management are a 'show me story' at best," Stern Agee research analyst Sam Poser wrote. "Over the years, Finish Line has raised investors' expectations only to under-deliver."
In September, as Finish Line's new order-management system went live, Lyon boasted to analysts on a conference call that it would enable the company to have the "hottest products" in the right locations and give it a "powerful advantage" over competitors.

Feinberg
Despite the latest setback, Richard Feinberg, a Purdue University professor of retail management and Finish Line stockholder, remains bullish.
"There's nothing wrong with their business model at all," he said. "They're doing things right, in my humble opinion."
Canaccord Genuity analyst Camilo Lyon has a "buy" recommendation on the stock and said in a report that "we believe the tide is turning."
With the supply chain snafus behind it, Finish Line posted a 6.2 percent same-store sales gain in December, Lyon noted. He said the chain boasts a robust product pipeline that continues across multiple brands.
"Given Finish Line's notorious history for poor execution, we welcome this [CEO] change and hope/expect Mr. Sato will put stricter controls in place to safeguard against avoidable mistakes that have destroyed shareholder value," he wrote.
A former Nordstrom Inc. executive, Sato joined Finish Line in March 2007 as executive vice president and chief merchandising officer. He became president and joined the board in October 2014.
Others think Finish Line should have searched outside for a new leader.
"We contend that as president, Mr. Sato was one of the key individuals responsible for the multiple execution issues faced by the company," Poser at Stern Agee wrote. "We are anxious to hear how Mr. Sato's outlook for the company differs from that of Mr. Lyon."
Barclays analyst Matthew McClintock said that, "while it is refreshing to see a new CEO, we would have preferred an outsider as chairman," a post Lyon assumed in 2010 and will continue to hold. McClintock said "that either of these two roles would benefit from an outsider's perspective."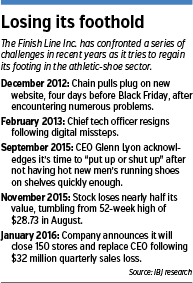 Barclays has dropped its price target on Finish Line stock from $25 to $18.
Feinberg at Purdue acknowledged Sato's leadership style might in many ways mirror Lyon's but said the "grass isn't always greener" when searching for new executives.
"Sam has been looking for this opportunity for 10 years or more," Feinberg said. "Why go outside when you know you have someone who is superior?"
Lyon joined Finish Line in September 2001 as executive vice president, and he took the CEO reins from company co-founder Alan H. Cohen in December 2008. Lyon previously led the locally based and now-defunct Paul Harris Stores, which filed for bankruptcy in 2001, about a year after he took over.
Lyon said in a January conference call with analysts that Sato has built strong relationships with Finish Line vendors and understands the importance of serving customers in an increasingly digital retail world.
"Sam and I have worked very closely over the past few years to prepare our team and this organization for this change in leadership," he said. "We are highly confident that it will be an orderly and seamless transaction."
In addition to its 1,011 Finish Line locations, the company operates 73 specialty running shops that it is rebranding under the JackRabbit moniker.
By closing 150 stand-alone Finish Line stores over the next four years, or 25 percent of the total, the company expects to improve profitability. The stores targeted to close produce average annual revenue of $1 million, a portion of which the company expects to recapture at nearby locations and through digital sales.
Vince Martin, a contributor to the financial site Seeking Alpha, is skeptical of the strategy.
"Beyond Finish Line's loyalty program, there isn't a major driver to choosing Finish Line over Foot Locker or a Nike store or nike.com," he wrote in a report. "There seems a decent likelihood that Finish Line's branded brick-and-mortar business has peaked."•
Please enable JavaScript to view this content.