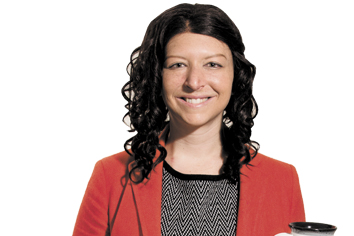 Denver Hutt, the former executive director of The Speak Easy in south Broad Ripple, died Saturday after a battle with ovarian cancer. She was 28.
A Santa Monica, California native, Hutt became the first director of the co-working space—often called a Moose Lodge for startups—in February 2012 and is widely credited with the not-for-profit's success. She announced she would leave the position last May saying that she worked "best in environments that are really blank canvasses and really chaotic."
She said The Speak Easy needed a "fresh set of eyes" to optimize the not-for-profit.
At the time, entrepreneur Kristian Andersen, one of the founders of The Speak Easy, said Hutt was an action-oriented visionary who helped establish the organization as a premier entrepreneurial destination. "Her focus on building world-class entrepreneurial programming can't be overstated," Andersen said.
In a phone interview on Saturday, Andersen said he last spoke to Hutt a few months ago and sent her a gift Friday because she was on his heart. He said Hutt took The Speak Easy from ground zero to an organization that's had a tremendous impact on the city's entrepreneurial community.
"There are hundreds of people in Indianapolis who will tell you they got their first job, they met their co-founder, they were able to hire solely because of her," Andersen said. "She's going to leave an enormous vacuum in the community. There's no question."
A member of IBJ's Forty under 40 class in 2015, Hutt resided in the Mass Avenue neighborhood and told IBJ in August that her first entrepreneurial stint involved running a lemonade stand with her siblings in the early 1990s. She was a self-described adventurist, both locally and globally, had been to 14 countries across Europe and had a seasonal Indianapolis to-do list, which included activities like paddle boarding.
Hutt completed a degree in political science and criminal justice at Indiana University. She found out about the soon-to-open Speak Easy, put herself in a position to meet the founders, and got permission to plan an event. "When they got funded," she told IBJ, "they hired me."
She previously served as events and outreach coordinator for IndyHub and organized Indianapolis Startup Weekend. She said she stayed in Indianapolis because it is embracing an entrepreneurial spirit.
Molly Chavers, executive director of Indy Hub, hired Hutt as an intern around 2011. While the internship lasted only about two months, the two continued to work together afterward on initiatives including the 1828 Project, Indy Hub's leadership group.
Hutt was energetic, tenacious, she pushed the limits and she never settled for the status quo, Chavers said. Additionally, Hutt was very skilled at connecting people together, she said.
"It's shocking. I don't think many of us ever thought this day would come at this stage of her life," Chavers said.
"We are so lucky that Denver chose our city. She loved Indy and through that love she inspired so many and did very big things. She was a force," Chavers said. "As a city we should look to her example."
Community leaders took to social media on Saturday to express their gratitude for Hutt's work. Jason Becker, CEO of RICS Software, tweeted that Hutt's "impact on Indy's people will shine on. #TeamDenver."
Indy Chamber President Michael Huber tweeted that "Indy will never forget how she fought cancer, while continuing to be a leader of the city."
Hutt was diagnosed with ovarian cancer in April 2013. A year ago, she told IBJ that cancer "doesn't have to define who you are and it doesn't have to keep you from making an impact on the community that you want to make."
But she wrote on her blog early this month that cancer had become debilitating, taking away her hair, voice, appetite and her breath. Hutt's friends had raised nearly $16,000 for her at GoFundMe.com to try to help her pay for treatment that wasn't covered by her insurance.
Tom Hanley, her boyfriend of two years and the executive director of Nine13sports, said Hutt died at Methodist Hospital "surrounded by family and friends in a room full of a whole lot of love."
He said complications related to her cancer had intensified in the past few months and "kind of came to a head in the last couple of weeks." She was readmitted to Methodist Hospital on Friday.
"I'm heartbroken and shattered," Hanley said. "She is truly a one-of-a-kind person and she made everybody who had the privilege to be around her better. She challenged all of us, pushed all of and helped us all succeed. That's at an individual level, a community level and a city level."
@DenverAllison you were a friend to all, helped launch the dreams of many & left one extraordinary impact on our city & state #TeamDenver

— TechPoint (@TechPointInd) January 17, 2016
Thank you for the adventure @DenverAllison Thank u for it all. You are always w us. #teamdenver Rest easy friend pic.twitter.com/XH3yRQTdtJ

— Sarah Lacey (@sarahklacey) January 17, 2016
So terribly saddened by the passing of @DenverAllison. So grateful for her friendship. So amazed by her impact on Indy. #TeamDenver

— Kristian Andersen (@kristianindy) January 16, 2016
Thankful the world got to know her, albeit for far too short of a time. #TeamDenver https://t.co/Ma9Hucu7Qj

— Chris Theisen (@cjtheisen) January 16, 2016
The heaviest of hearts for Indy's loss of Denver Hutt. What a powerhouse + brilliant woman. https://t.co/27QKQrW1bG ❤️ to Tom/@Nine13sports

— Brittany Smith (@YelpIndy) January 17, 2016
A light in #Indy has gone out, & we will miss Denver Hutt's entrepreneurial spirit; her leadership & energy for this city are unparalleled.

— Plan 2020 (@IndyPlan) January 17, 2016
Please enable JavaScript to view this content.