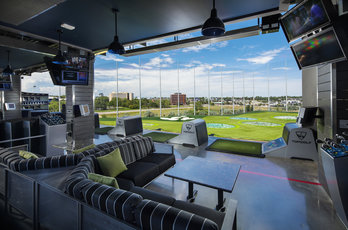 Entertainment venue Topgolf International said Monday it plans to open a three-level, 65,000-square-foot location in Fishers—its first in Indiana—if the city council agrees to waive about $670,000 in fees on Tuesday.
The center, expected to open in spring 2017, would offer competitive golfing games aimed at different ages and skill levels in addition to food, alcohol and other entertainment options. It would be located along 116th Street near Cumberland Road. City officials said Topgolf will make an $18 million to $25 million investment in the venue.
Topgolf Vice President of Real Estate Development Zach Shor said in a statement that the company is expanding in the Midwest and has considered Indianapolis a "key market that has been on Topgolf's radar for a long time."
"Fishers offers a centralized location in the state and close proximity to Indianapolis," he said. "It's a vibrant community that is frequently recognized as a top place to live and work, and we hope to provide residents a new destination for entertainment."
Company officials expect as many as 450,000 visitors in the first year of operation and will employ as many as 450 full- and part-time workers.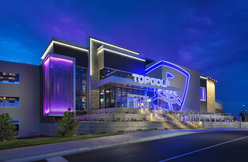 The venue would be open year-round and include 102 climate-controlled hitting bays that can host up to six players at a time. Other games would test golfing skills and track the accuracy and distance of players' shots. Still, company officials say nearly half of the customers at Topgolf's other locations describe themselves as non-golfers.
"The special thing about Topgolf is that you don't have to be a golfer to have fun at our venue," Shor said.
The location would include 230 high-definition flat-screen TVs  and up to 3,000 square feet of private events space. It would offer a kids program and social leagues as well as live music.
Fishers Mayor Scott Fadness called Topgolf a "one-of-a-kind product."
"It's definitely a new concept," Fadness said. "It's hard to articulate what it is until you realize the scale and magnitude. It's a pretty impressive facility."
The Fishers City Council will consider a proposal to exempt Topgolf from paying permitting, road impact and other fees that will total $670,000. Fadness said he expects Fishers to earn a quick return given Topgolf's investment and planned employment levels. "We think from the mayor's office that this is a huge win for our community," he said. "It's a great amenity and a project worth putting our support behind."
Topgolf would be east of the planned Ikea store in Fishers. The company is also planning to locate a Topgolf venue near an Ikea in West Chester, Ohio.
Fadness said the Fishers location became more attractive to Topgolf once Ikea announced last fall it would locate near Interstate 69 and 116th Street, but he said company officials had already been interested in the area.
"They have a pretty sophisticated analytics group that did a deep dive into where the discretionary income is located," Fadness said. "I think Ikea was a factor but not THE factor."
Please enable JavaScript to view this content.