Zionsville's first-ever elected mayor has lived in the town since he was in the third grade. He recently left his job with the Indiana Economic Development Corp. to take on the new full-time position, even though it might not last. The Indiana Supreme Court has yet to make any decisions in regard to the town's reorganization case that allowed adding a mayor, but Tim Haak is already pushing ahead on redevelopment efforts and ongoing projects.
IBJ: What's your top priority for the next year?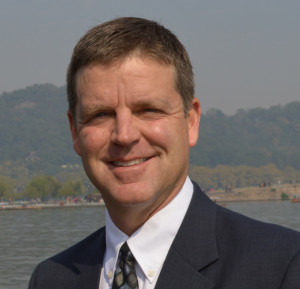 Haak: The list is ever changing and getting longer, but I've gotta remember we only have so much personnel and money.
In Creekside Corporate Park, we're working through the final inspections for Hat World Inc. right now. The majority of the building has been occupied.
Creekside Boulevard [the road that will run through the park] should be going in as soon as the weather permits this spring. This summer then we're going to have our first tenant back here begin construction — DK Pierce. Sometime in June is when we told them they can get back here and start construction.
We're still entertaining offers and talking to a lot of other people about the other areas. But once we get this road complete, we think it will be a pretty popular choice for people.
IBJ: What about building a new town hall? What's the latest with that?
Haak: We are 90 percent done with design phase, so we're picking out carpet and paint right now. We have a meeting Thursday night to go over the financing package. Once that's finished, we can break ground this spring.
IBJ: And you'll stay in the current building until that one is done?
Haak: That's the plan. Unless somebody comes in and writes us a big check.
The idea is once we're in the new building, we'll knock this down. The new building will go right behind, and the U-shaped drive will go away, and there will be a center drive. We'll split this piece into two parcels and sell them off. It will probably be at least another year before we start taking offers for this.
We looked at selling this now because we had an interested party, but their timeline was a little more compressed, and the cost of us relocating to temporary space was too expensive to make it worthwhile.
IBJ: What are the cost estimates for the new town hall?
Haak: The building itself is going to be about $8.5 million, and once you tag on legal fees and other expenses it will be around $10 million. We will probably do a lease purchase. We found out it's cheaper than the bond process.
IBJ: What about downtown redevelopment efforts? There are a couple prominent pieces of vacant land, specifically the former site of PNC Bank near the intersection of Sycamore and Main streets.
Haak: That's probably our second priority. … The town owns the PNC site. We are looking at intersection improvements there to relieve some of the congestion. Once we get a more formal plan as to how that intersection can be improved, we'll put out a [request for proposal] for that site. Within the next three to six months, I think that process will go forward. It's a challenging intersection to solve. We need to do it right and take our time.
IBJ: How exactly are you trying to fix it? Are you trying to realign it?
Haak: We are open to all suggestions. We looked at roundabouts, which would work from a traffic perspective but it was not very pedestrian-friendly.
IBJ: When will the new town website launch?
Haak: It's almost complete. We're getting out the bugs right now. It looks great, and so far so good on being able to use it. It should be out very soon.
IBJ: Will you need more IT staff with a new website?
Haak: Our IT department literally has one guy, so we want to increase our IT staff anyway. One of those new hires will be a communications director that will do website updates, social media, press releases, media requests. That will take a lot off our IT department head's plate.
IBJ: Anything else on your list?
Haak: Economic development and infrastructure are the two big ones. My to-do list is growing everyday. Creekside Corporate Park is going to dominate our efforts this year.
Please enable JavaScript to view this content.