Brian Fenner had big plans for his Indianapolis towing company, Sperro Towing and Recovery.

His goal was to build a national network of bankruptcy attorneys who would let him know if a struggling client had a vehicle they couldn't afford to keep.

Fenner would pay the bankruptcy fees in exchange for the client's surrendering the vehicle and allowing Fenner to tow it to his impound lot near the White River about 10 minutes south of downtown, where he would eventually sell many of the cars and trucks in auctions.

But the plan, which he appears to have hatched at least two years ago, quickly ran into trouble. Many of the vehicles still had outstanding loans, and the lenders, including Ford Motor Credit Co., claimed Fenner was running what amounts to a national scam out of his modest towing and storage yard.

Fenner, a former repo man, has been sued at least 14 times since October 2014 in Marion and Hendricks county courts, with lenders demanding he give back dozens of cars worth hundreds of thousands of dollars.

The lenders claim Fenner demanded thousands of dollars in towing and storage fees before relinquishing them. Some of the vehicles had been hauled from as far away as Vermont and New Mexico, for a towing fee of $1.85 a mile, plus $45 a day in storage fees, $150 to load and unload, $250 for "preventative maintenance care," and other fees.

Fenner's company also sold dozens of the vehicles in lightly attended auctions, often to himself, neighbors and former business associates, for a fraction of their market value, according to court records.

Earlier this month, Marion Superior Court Judge Thomas J. Carroll granted a preliminary injunction in one of the cases. He called Fenner's plan a "dubious business model" and ordered him and a business partner in Wisconsin to return seven cars and trucks, including a Lincoln Mark LT truck and three Ford F-250 trucks.

The judge also ordered the Indiana Bureau of Motor Vehicles to stop issuing new titles for the vehicles. The BMV had already handed out new titles for 49 vehicles since January 2015, according to court records.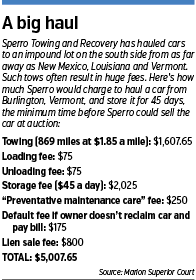 Fenner did not return calls from IBJ seeking comment. Nor did anyone answer the door in two recent visits to Sperro Towing and Recovery, an aging, two-story building in front of a fenced-in lot on an industrial stretch of Bluff Road south of Raymond Street.

Fenner's lawyer, Scott A. Kreider, declined to discuss with IBJ what his client was doing.

"I don't want to litigate this in the media," Kreider said. "But our position is that he's been complying with the statute."

The law in question is Indiana's mechanic's lien statute, designed to protect mechanics and related business owners from customers who don't pay their bills. If the customer doesn't pay up in 30 days, the company can sell the vehicle at a public auction. But the vehicle can't be sold earlier than 15 days after it has been advertised for sale.

Fenner, however, pushed the timetable, according to court records. He advertised the sales of the F-250 trucks less than 30 days after taking possession of them, and not in a newspaper of general circulation, but in the Hendricks County Flyer. He sold several other vehicles less than 15 days after taking possession.

Judge Carroll ruled that all those sales were invalid, and that Fenner had induced the breach of installment contracts between borrowers and Ford Motor Credit, "or proceeded with reckless disregard" of the contracts.

The judge also found that Fenner's company had charged an average of $4,800 to tow and store each vehicle—a much steeper price than the usual cost, about $300, of voluntary surrender in Indiana.

What happened to the vehicles at Fenner's auctions seemed unusual, too. Unlike many vehicle auctions, which are held during normal business hours and presided over by a professional auctioneer, Sperro's auctions were often held at 6 a.m. without an auctioneer.

Fenner testified in a deposition that "possibly maybe a handful of people" attended the auctions.

The vehicles, often worth more than $15,000, would sell for the amount of the towing and storage liens, which was sometimes less than $5,000.

And who bought the surrendered, defaulted vehicles? According to court documents, the circle of buyers was small.

Last year, Fenner bought a 2014 Ford F-150 truck from his own auction for $3,996, far below the wholesale value of $27,200, according to court documents. He also bought a Dodge Challenger for $3,150, a steep discount from the wholesale value of $14,250.

Of the 49 vehicles sold at lien auctions since January 2015, two were sold to Fenner, three were sold to Sperro Towing, and one was sold to one of Fenner's neighbors.

The remaining 43 were sold to AMI Asset Management of Mukwonago, Wisconsin, whose owner, Dennis Birkley, is described in documents as Fenner's former employer and one-time mentor. Birkley and Fenner both worked as repo agents and have known each other for 20 years.

John Petr, an attorney at Kroger Gardis & Regas who represented Ford Motor Credit, called Fenner's plan a "brazen story of opportunist greed," according to a copy of his opening statement in the case on Dec. 22. Neither Ford Motor Credit nor its attorneys would comment to IBJ.

The judge, in his finding of facts, estimated Ford was owed at least $159,000 in outstanding loans on just seven surrendered vehicles.

He prohibited Fenner or any of his companies from taking possession of any car in which Ford Motor Credit is a lienholder.

And in strong language, he ruled that Sperro, Fenner and AMI "exerted unauthorized dominion and control" over the vehicles and demanded "exorbitant transport and storage charges of questionable economic justification."•