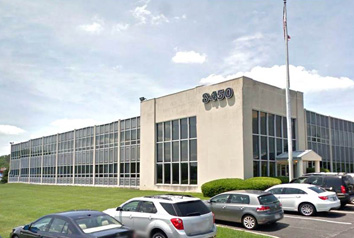 One of the largest church congregations in the Indianapolis area has bought an office building in Nora and eventually plans to offer services at the site.
Grace Church paid $5 million for the 66,000-square-foot, three-story building at 8450 N. Westfield Blvd. between East 86th Street and the Jordan YMCA.
The purchase by Grace, which boasts about 10,000 parishioners, is part of a larger growth strategy that includes an $18 million project in Fishers.
The church, launched in 1991 in Noblesville by senior pastor Dave Rodriguez, last year began building a 63,000-square-foot facility on 25 acres at the southwest corner of 126th Street and Olio Road.  
Until the project is complete, Grace is using the Fall Creek Junior High auditorium for services.
In the meantime, the church set its sights on the north side, where many of its worshippers travel from to attend services, Rodriguez said.
"We've wanted to put a campus on the north side of Indy for a number of years," he said. "It's an outreach opportunity for us."
Grace bought the Nora office building from a Lafayette-based ownership group. Plans call for a food pantry and referral center, in addition to perhaps partnering with organizations such as the nearby Jordan YMCA and the Raphael Health Clinic at 401 E. 34th St. to offer additional community services.
Church members also will worship in the building. But Rodriguez ultimately hopes to build an auditorium on available land in front of the building.
"That's part of the dream," Rodriguez said.
That could take several years, though. Even conducting services in the existing building is a few years out. Five tenants lease space there, including Sylvan Learning Center and the DirectBuy of Indianapolis furniture store.
Realizing the dream will take money, Grace last March launched a capital campaign it hopes will raise $33 million during the next two years to fund the expansions. Rodriguez, however, isn't exactly sure yet how much it will cost to renovate the Nora building.
Grace also has plans to start a church in Bloomington.
Darrin Boyd and Dave Moore of Cushman & Wakefield represented Grace in its purchase of the Nora building. Boyd attends Grace and brought the building to Rodriguez's attention.
"This building is perfect for Grace," Boyd said in an email. "It's next to the YMCA, across the street from Washington Township schools, has land out front to build an auditorium, and it fronts the Monon."
Rodriguez agreed, likening the site to "beachfront property for our needs."
Matt Langfeldt and Rich Forslund of Colliers International represented seller Westfield Building LLC.
The building was constructed in 1970.
Please enable JavaScript to view this content.