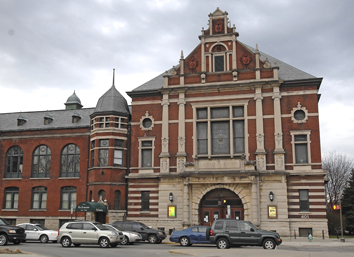 The Athenaeum Foundation's $1.2 million capital campaign to raise funds to renovate the historic building's theater has received a major boost from local philanthropists Frank and Katrina Basile.
In honor of their $225,000 gift, which pushed the campaign over the halfway point, the foundation announced on Tuesday that the 350-seat theater will be renamed to recognize the Basiles' contribution.
"This gift is made in response to our belief in the Athenaeum, its mission and management, plus the planned changes detailed in the campaign proposal," Frank Basile said in a prepared statement. "The theater has become the production home to many organizations and the improvements planned will make the patron experience even more memorable."
Renovations to the Athenaeum's lobby will include the addition of a coffee and snack bar, Wi-Fi service and new seating in hopes of converting it from pass-through space to a vibrant destination.
The lobby's decor dates to 1988, when the figured carpets and burgundy-upholstered circular benches were installed as set dressing for the film "Eight Men Out."
Improvements to the theater will include the restoration of six large art-glass windows, tuck-pointing and cleaning of the brick work on the exterior of the theater's west wall, sound-proofing the theater's east wall to prevent sound bleed-over from the beer garden, and updating the theater's light and sound systems.
Located at 407 E. Michigan St. near Massachusetts Avenue, the Athenaeum was constructed in 1893 by German immigrants to house their clubs. It's been on the National Register of Historic Places since 1973.
The foundation is confident the community will support the campaign, titled A Makeover on Mass Ave, and hopes to complete the renovations by the end of the year, Athenaeum President Cassie Stockamp said.
The theater is the largest room in the building and is the oldest theater in continual operation in the city, the foundation said. Seating originally was on a level floor. Raised platforms and low walls were added in the late 1980s, when the theater was adapted to serve as the home of the American Cabaret Theatre. It moved in 2009 to the Columbia Club.
The 94,000-square-foot Athenaeum also serves as a community center and office space for cultural and not-for-profit groups, including the YMCA, Young Actors Theatre, Indiana German Heritage Society, Indiana Downtown Artists and Dealers Association and others.
The Athenaeum is also home to The Rathskeller restaurant.
 
Please enable JavaScript to view this content.