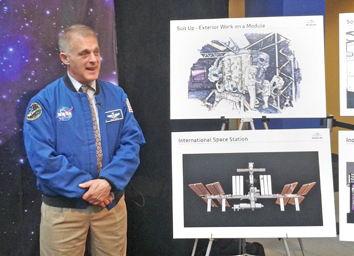 In the basement of the Children's Museum of Indianapolis, things are looking up as officials announce an outer space-themed makeover.
The $8.1 million redo, set to open to the public in late June or early July, will include an immersive permanent exhibit, "Beyond Spaceship Earth," focusing on space exploration.
It will include walk-through recreations of sections of the International Space Station with an emphasis on STEM (science, technology, engineering and math) educational components. Digital games developed with the support of the Entertainment Software Association Foundation have been designed to recreate astronaut experiences.
"Beyond Spaceship Earth" will lead into the existing planetarium, which is being re-imagined and redesigned under the name Schaefer Planetarium and Space Object Theater.
The planetarium will showcase more artifacts, beginning with Gus Grissom's Liberty Bell 7 space capsule. An Astronaut Wall of Fame, created in partnership with Purdue University, will celebrate men and women with Indiana connections who helped shaped the space program, among them David Wolf, the museum's Extraordinary Scientist-in-Residence.
"Having Dr. Wolf in residence allowed us to take take a unique look at what it's really like to be [in space]," said Dr. Jeffrey Patchen, president and CEO of the Children's Museum, who added that, like most major projects, this one took four to five years of planning and fundraising.
Wolf, 49, made four trips to outer space and spent 128 days aboard space station Mir in 1997 and 1998.
"Nothing grips and captivates young people like space," said Wolf, who was closely involved in the planning. He promised a "powerful exhibit for years to come."
"My handprints are all over it," he said. "And it's every bit the joy to work here with this team as it was to work with the real thing."
Lead gifts from Lilly Endowment Inc., Eli Lilly and Co. Foundation, Heritage Group, Patricia Schaefer, and NASA, helped fund the new and retooled exhibition area. Lilly Endowment provided $3 million for the project.
Major financial support was provided by Steve and Susan Haines, R.B. Annis Educational Foundation, the Dorsey Foundation, and Church Brothers Collision Repair. NASA and Wolf, himself, who also provided expertise in developing the exhibition.
 "It's important to capture the imaginations of students and help them see the relevance of what they are learning," said Ace Yakey, Lilly Endowment's vice president for community development, in a written statement. "The combination of the Children's Museum expertise with David Wolf's engagement made these initiatives most compelling to the Endowment."
Please enable JavaScript to view this content.