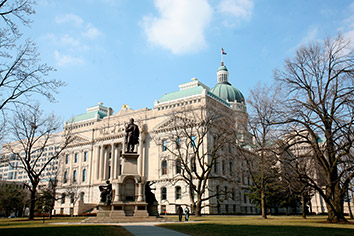 An Indiana Senate committee has killed a bill that would have thrown out the state's contentious religious freedom law and replaced it with more robust protections for the rights of worship, speech and bearing arms.
State Sen. Mike Young, an Indianapolis Republican, said Wednesday that critics who "demagogue" and "fear monger" had mischaracterized his proposal.
It's an awkward time for GOP lawmakers, who are under pressure to adopt LGBT civil rights protections after an uproar last spring over the religious-freedom law. Critics said the law would permit discrimination against gays.
The Senate Judiciary Committee did not vote on Young's bill on Wednesday morning and did not take public testimony, even though a crowd had gathered to speak on the legislation.
Peter Hanscom, initiative director for Indiana Competes, a group of business leaders pushing for gay rights legislation, applauded the Judiciary Committee's decision not to consider Senate Bill 66. "The damage that SB 66 could have caused our state goes beyond what Hoosiers witnessed last spring when the first Religious Freedom Restoration Act was signed into law," Hanscom said in a written statement.
Indy Chamber CEO Michael Huber said the legislation would have "sent the message that some Indiana lawmakers are still not serious about making certain that all people have equal rights. Moving forward, we must focus on real solutions to our real problems."
The Senate is set to take up separate proposals Wednesday afternoon that would extend civil rights protections to lesbian, gay, bisexual and transgender people.
But passage of either bill is far from certain. Gov. Mike Pence said recently that he will prioritize religious freedom over LGBT rights, and many lawmakers have expressed reservations.
One bill to be heard Wednesday would extend discrimination protections to LGBT people in public accommodation, housing and employment. The other would do the same but exclude transgender people. Both contain several religious exemptions.
Please enable JavaScript to view this content.