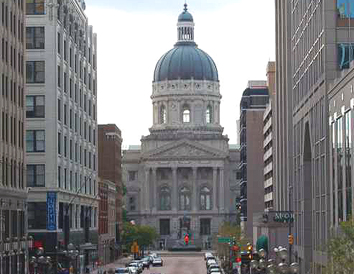 A Senate committee on Wednesday narrowly advanced a bill that would extend civil rights protections to gay and lesbian Hoosiers but punt the issue of transgender discrimination to a summer study committee, as well as offer religious exemptions for clergy and other groups.
The approval effectively killed for the legislative session another proposal—Senate Bill 100—that would have protected LGBT people and provided religious exemptions while superseding more comprehensive local non-discrimination ordinances that protect about 40 percent of Indiana residents.
The Senate Rules and Legislative Procedure Committee on Wednesday voted 7-5 to advance Senate Bill 344, a bill proposed by Sen. Travis Holdman, R-Markle, to the full Senate. Democrats and one Republican, Sen. Dennis Kruse, R-Auburn, voted against the bill.
Holdman said the bill is an attempt to balance the rights of gay and lesbian people to not be discriminated against—which he said is "the right thing to do"—and people who say some of those rights conflict with their deeply held religious beliefs.
SB 344 would prohibit discriminatory practices because of sexual orientation or military active-duty status in real estate, housing, education, public accommodations, employment or the extending of public contracts.
But the bill moves the more controversial issue of including transgender people to a legislative study committee, which businesses and advocacy groups have said is a "nonstarter."
LGBT rights advocacy group Freedom Indiana called the bill and discussion "shameful."
"Lawmakers still aren't listening," said campaign manager Chris Paulsen. "Tonight, they took a bad bill and made it worse for LGBT people in our state who have to live each day in fear that they could be fired, denied housing or turned away from a public place for who they are."
The bill provides religious exemptions for clergy and religious organizations, and marriage-related businesses with five or fewer people.
It was amended Wednesday to provide exemptions to groups providing adoption services or crisis pregnancy services that are anti-abortion and not-for-profits and associations that offer "religious-centered programs."
Those exemptions were opposed by Democrats who said they feared groups would take advantage of loopholes. They said the exemptions were contrary to the equal protection clause.
"If you want to be a person who is contracting with the state or if you want to be an establishment that is offering goods and services to the public, it should be the entire public," said Sen. Karen Tallian, D-Portage. "The exemptions just cross the line."
The committee meeting was also an opportunity for legislators to hear testimony from Indiana residents and others who came to the Indiana Statehouse. Lawmakers listened to nearly four hours of testimony.
The Rev. Lewis Galloway, pastor of Second Presbyterian Church of Indianapolis, said he is a member of a group of 220 religious leaders across the state who believe the civil rights law should be updated to include sexual orientation and gender identity.
"I believe one of the most important witnesses we can make to our faith is the practice of the grace of hospitality," Galloway said. "When we refuse services, we fail to do this. When any one of us is denied full protection under the law, no human being is safe."
But Oregon resident Melissa Klein, owner of bakery Sweet Cakes by Melissa, urged the lawmakers not to approve the bill. Her bakery closed down after the state found she broke the law when her bakery refused to sell a wedding cake to a lesbian couple.
"When I bake a wedding cake, I'm celebrating that wedding and blessing it in my own small way," Klein said. "My conscience told me I couldn't participate."
Several people said the bill was a "solution in search of a problem" and said they didn't believe any legislation was necessary.
But business leaders again showed up in force to say that the lack of non-discrimination laws for gays and lesbians—and continuing fallout over last spring's Religious Freedom Restoration Act—are causing real damage to the state's business climate.
Indiana Competes, a group of more than 425 businesses, said the discussion was a missed opportunity.
"The Hoosier business community has said from the beginning that Indiana must be a place that welcomes all, not most," said director Peter Hanscom. "We respect the legislative process and will continue to work with the General Assembly, but we will not support a final bill that does not provide for equal rights for the entire LGBT community."
Please enable JavaScript to view this content.