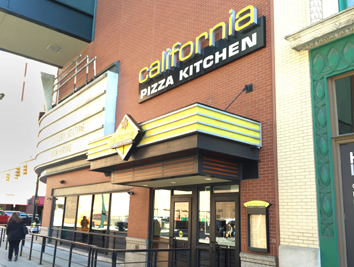 A Primanti Bros. sandwich shop is coming to Circle Centre mall, replacing California Pizza Kitchen.
Simon Property Group Inc., which manages the mall, announced Friday morning that the Pittsburgh-based sandwich chain should open in the fall.
The location will be the second in the Indianapolis area for Primanti Bros. The Pittsburgh-based chain, known for its sandwiches featuring coleslaw and French fries, is building a 5,500-square-foot location at 13871 Cabela Parkway near Cabela's in Noblesville. The restaurant is expected to open this year, according to Primanti Bros. website.
The menu varies by location, but all Primanti restaurants offer the company's signature sandwich with a choice of meat, coleslaw and French fries on Italian bread. The chain also offers wings, pizza, burgers, salads and beer depending on the store.
California Pizza kitchen will close Jan. 31, an employee at the restaurant said. The Circle Centre location is its only one in Indiana, according to the Los Angeles-based chain's website.
The pizzeria replaced Alcatraz Brewing Co. on the first floor of the mall in 2011, in the space at the southeast corner of Illinois and Maryland streets. Alcatraz had been there since the mall opened in 1995.
Besides Primanti Bros, other new food options coming to the mall include Nada and Punch Bowl Social. Nada, a Cincinnati-based Mexican eatery, is expected to open in March east of Yard House on Maryland Street, and Denver-based Punch Bowl Social, a restaurant and entertainment concept, should open in the summer along Georgia Street.
The eateries all will sport street access, something that critics of the mall say is lacking.
Simon has proposed $20 million in upgrades for the mall, including an overall freshening of the 752,000-square-foot property with new lighting and seating, an upgraded food court, upgraded bathrooms, construction of a mall entrance on Georgia Street and improvements to other entrances to help better draw in passers-by.
Circle Centre spurred a downtown renaissance when it opened 20 years ago but now is showing signs of struggle. Just this month it has lost several tenants, leaving big storefronts vacant.
Johnny Rockets, the largest tenant in the third-floor food court, served its last customers on Sunday.
Abercrombie & Fitch, Gap and Gap Kids, in addition to the American Greetings card shop, Johnston & Murphy and the Yankee Candle Co., also are among the casualties.
Simon manages the mall but owns just a 15 percent stake. The rest is owned by about 20 local companies that pumped $75 million into the $320 million project in the early 1990s.
Please enable JavaScript to view this content.