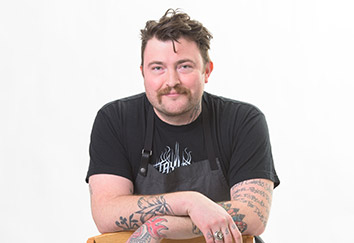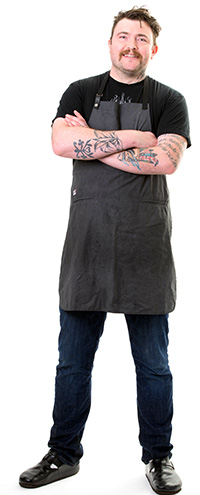 Chef/Owner 
Milktooth
Milktooth not only established Jonathan Brooks as one of Indiana's leading chefs, it brought him national attention when he was named one of Food & Wine magazine's Best New Chefs.
Core concepts: The idea behind Milktooth was to build a fun restaurant—casual with fresh, honest and, Brooks hoped, delicious food. "I know we don't appeal to everyone, but that was never one of our goals."
Keep 'em guessing: "Some people look at food like they look at appliances," Brooks said. "They want it to be predictable and reliable. … I want food to be exciting. I want things in front of me that I've never had before. I want to make mistakes. I want to make people laugh. I want to challenge them … I want them to feel sexy and have fun."

QUICK FACTS
Age: 31
Hometown: Indianapolis
Family: wife, Ashley; son, Roman, 4
Social media: Uses Instagram the most. "It's quick, which is important to me during a busy day."
Reading pile: "Restoring the Shining Waters: Superfund Success at Milltown, Montana," by his brother, David Brooks. "And ideasinfood.com is an incredibly resourceful website."
Playlist: Brooks doesn't like to cook without music. Favorites include Travis Scott's "Rodeo," Courtney Barnett's "The Double EP: A Sea of Split Peas," and Destroyer's "Poison Season."
Generous portions: Brooks' mother "always had endless patience with her children and grandchildren when they lent a hand in the kitchen," he recalled. "Cooking should be a generous act, and she showed me and everyone around her generosity."
Kitchen secret: "Seventy percent of what cooks do is clean. Clean the fish, clean the potato, clean your station, clean your knives, clean the walk-in, clean your nails, clean the hood …"
Avenue influence: Virginia Avenue and Fletcher Place were on the cusp of getting respect as a destination for food when he opened in 2014. Attention built in 2015. But there's a downside: "A lot of my friends and employees really can't afford to live in Fletcher or Fountain Square anymore. I don't want to see small, independent businesses being forced to compete with large ones for real estate. I don't want to see the young artists and musicians move away."
Favorite downtime activities: "I don't have downtime," said Brooks—although he occasionally gets a drink of good mescal and eats "lovingly prepared food" in his friends' restaurants.•
Check out more 2016 Forty Under 40 honorees.
Please enable JavaScript to view this content.