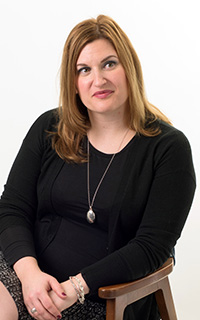 Chief of Staff
Indiana House Republican Caucus
Lesley Crane earned an internship with House Republicans while an undergrad at Butler University, which led to a second internship. After a stint in a lobbying job, she circled back, rising to chief of staff for the Republican Caucus. "If you get bitten, then it's a sickness that has no cure," she said. "I think I haven't missed a session since 1998."
Political roots: Crane recalled as a sixth grader becoming involved in her father's run for a judgeship. "I was so young," she said. "And who's not going to vote for my dad?" His loss was a heartbreaker, but she watched him head out the next day and get back to work. She learned a life lesson: "to get back up … because there's a lot of getting knocked down."
Facing challenges: "I've been with the House Republican Caucus through so many big changes—the difficulties of last session, the walkout, right to work, the prayer lawsuit—and I'm proud of how we came out on the other side of those challenges." She's also proud of leading "a staff of diverse, strong-willed people who are so talented and really great at their jobs. I so enjoy coming to work every day and watching them kick butt and take names."

QUICK FACTS
Age: 38
Hometown:  Lambertville, Michigan
Family: husband, Matthew; children, Maeve, 7, Glenn, 5, and Cora, 5
Social media: Facebook … "but I don't do any political posting."
Reading pile: With her kids, she's reading old favorites by Judy Blume and Roald Dahl. When she has a bad day, she opens up "A Year with Pope Francis." 
Playlist: A big Adele fan, she also likes Imagine Dragons, Sia and Broadway music from the likes of Idina Menzel and Linda Eder.
Statehouse high: Crane said what people might not realize is "how much the Statehouse is like high school—it's all about managing personalities," adding that it can be a "Mean Girls" atmosphere "with the same people socializing with the same people."
Across the aisle: Not only are some of her best friends Democrats, she's also married to one. "I love a good argument," she said. "I truly believe confident people ask questions, listen and re-evaluate."
To "passive-about-politics" peers: "To be a responsible member of your community, you need to be informed about what's going on—that's how you create a well-rounded community."•
Check out more 2016 Forty Under 40 honorees.
Please enable JavaScript to view this content.