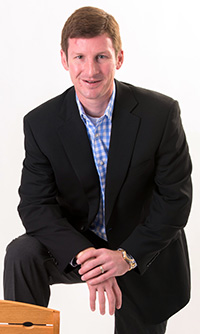 Senior Vice President of Development and Construction
Ambrose Property Group
After Grant Goldman spent a decade at Pepper Construction, where he helped the firm achieve its highest sales volume in company history, he joined Ambrose Property Group, a much smaller company, to more deeply pursue his interest in development.

Foundation building: If you grow up down the street from Purdue University, "being an engineer is predetermined," said Goldman, who did roofing, built pools and worked in farm fields during his formative years. Internships taught him that he "wasn't the quickest guy with a slide rule." He segued into construction, where there was more communication, management and personal focus.

Overlooked opportunities: Goldman expressed concern about the depleted workforce available in his industry. "People don't graduate and dream of being a bricklayer. But it's a great way to make a living."

QUICK FACTS
Age: 34
Hometown: West Lafayette
Family: wife, Ashley; children, Max, 6, and Reese, 2
Social media: Goldman is not a "super social media guy," but uses Twitter for information.
Reading pile: Jim Collins' books, "The Leadership Challenge" by James M. Kouzes and Barry Z. Posner, the Harry Potter series. "Sometimes you need a little bubble gum."
Playlist: "Ten years ago, I thought country was awful, and this year I've probably listened to more country than anything else." But if working out, he "needs Metallica and rap."
Youth and vice: Experience—plus a master's in civil engineering from the University of Texas—positioned him for a position at Pepper, where, at 33, he became the youngest vice president in the company's history. "I'm a pretty conservative guy, not a wild risk-taker," he said. "I always do my homework, sometimes ad nauseam, before I act. I feel as if I ought to know the answer for whatever is asked."

United effort: "Something that always bothered me is the discrepancy in opportunity based on where a child is born—the likelihood that success is affected by the area code a child is born in," he said. He volunteered as a Big Brother and, wanting to do more, turned to the United Way for advice. "I just told my story," he said, and United Way connected him to the Edna Martin Christian Center, where he started serving on the board and now serves as board chairman.

Breaking away: Goldman's getaway is racing road bicycles, which he trains for nearly every day. "I wish I'd picked another hobby," he said. "It's really time-consuming and expensive."•



Check out more 2016 Forty Under 40 honorees.