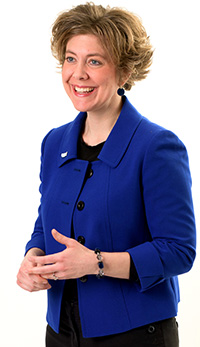 Dean of Alumni and Student Engagement
Franklin College

At her alma mater, Franklin College, Brooke Worland creates collaborations that integrate critical thought and applied learning. She developed and manages the inaugural Professional Partners alumni and friends mentoring program, designed a four-year professional curriculum for the Physician Assistant Studies Program, and co-wrote and co-managed a $998,000 grant from Lilly Endowment to pay for it. She also leads a 33-member Alumni Council and facilitates the Engaged Learning Team. She's also doing doctoral work in educational leadership at Indiana University.

Fire starter: "I used to say I spent a lot of time putting out fires," Worland said. "Now, with engaged learning, I find myself sometimes starting fires—trying to twist things and look at things differently." As registrar—her entry position at Franklin—she spent a lot of time working with faculty "learning to understand that culture. What and how they work. What they value. Those years helped to build trust. Now, people will sometimes go along with me because they know I haven't totally lost my mind."

Intern … turn … turn: In the last few years, Franklin has ramped up undergraduate research and better connected internship experiences with academic experiences. "We've aligned them so that you can really look at theory-to-practice," Worland said, noting that the effort is supported by faculty who are encouraged to work with not-for-profits and community partners. "They bring those experiences back to the classroom," she said, affording another opportunity to "focus on that relevancy piece for our students."

Quick Facts
Age: 38

Hometown: Rossville

Family: husband, Matt; children, Elizabeth, 9, and Benjamin, 7

Social media: "On the alumni-engagement side, we do a lot with Facebook, Twitter, Instagram and LinkedIn. Personally, Twitter and LinkedIn."

Reading pile: "Good to Great," by Jim Collins; "Completing College: Rethinking Institutional Action," by Vincent Tinto

Playlist: everything from classic jazz to big band to Christian music
Proudest career moment: Three years after graduating, an alumna said she finally understood why Worland challenged her and persisted with questions and action items that were not easy or comfortable. "At the time," Worland said, "she did not appreciate me forcing her to make her own decisions but now feels she is a better, more centered person. That is why I do what I do."

Prioritizing positions: Even though her two small children put her in "the prioritization phase of my life," she still finds time to serve on the boards of the Johnson County Community Foundation and Franklin College Alumni Council, and as a member of the Franklin chapter of Delta Delta Delta fraternity. She is also a member of the Talent Committee for ASPIRE Johnson County, and the I-65 Franklin Corridor Steering Committee.•



Check out more 2016 Forty Under 40 honorees.