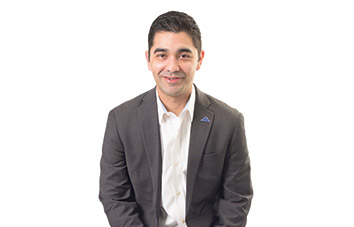 City Controller
City of Fishers
Oscar Gutierrez emigrated to the United States in 1991 at the age of 11 shortly after losing his mother. He began working at age 14 as a busboy and dishwasher and, at 17, enlisted in the U.S. Air Force, where he was on active duty from 1997-2001. He joined the Army Reserve in 2006 and has been there ever since, serving active duty from 2009-2013.
Paper town: Technically, Gutierrez is the first controller for Fishers, which used to have a clerk/treasurer. But, he said, you can't manage things the same way for 80,000 people as you did for 2,000. "We have to evolve into a more sophisticated way of doing business," he said. "Part of my challenge has been modernizing a lot of processes. There was still a lot of paper."
Returning the favor: Gutierrez said the first thing he wanted to do when he became a legal resident in 1997 was join the military. "I wanted to give back because of the opportunity the country provided." He's now serving his 19th year in the military. "That sense of duty shaped everything I do and it's the reason I work in the public sector," he said.

QUICK FACTS
Age: 36
Hometown: Toluca, Mexico
Family: wife, Meghan; son, Darwin, 5
Social media: Facebook for personal ("Most of my family members don't live in Indiana, so we use it to show what we are doing"), professionally, Twitter, and LinkedIn for basic networking
Reading pile: "My go-to is 'Freakonomics.'"
Playlist: If not listening to public radio, then it's Dave Matthews, Jack Johnson and "your basic jam-band-style music."
In the fold: "It's hard not to give back to those children whose parents gave the ultimate sacrifice," he said of his work as a board member of the Folds of Honor Foundation, which provides financial assistance to families of fallen or disabled military personnel. For the record, as of this writing, 238 Hoosiers have given their lives in defense of the nation since 9/11.
Big on boards: "It has to be important to me," he said of his board choices, which lean heavily toward the military and the Hispanic community. Gutierrez also serves on, among others, the boards of the Indianapolis Public Library, the Indiana Latino Institute (taking the treasurer spot this year), Avondale Meadows Academy/Vision Academy, the Hispanic Business Council, and on the Indiana War Memorials Commission. "If I can make a difference by providing guidance, those are the boards I choose."•
Check out more 2016 Forty Under 40 honorees.
Please enable JavaScript to view this content.