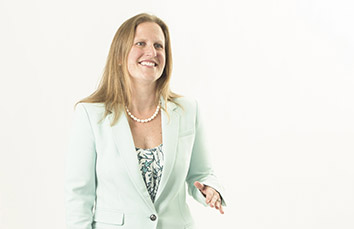 Executive Director
Indianapolis Cultural Trail Inc. 
As the first executive director of Indianapolis Cultural Trail Inc., Kären Haley not only is responsible for managing, maintaining and programming the Indianapolis Cultural Trail, she also developed and runs the Pacers Bikeshare program.
First day on the job: As the first person to hold this position, Haley—formerly director of the city's Office of Sustainability—was given a set of keys to her office and a list of board members and contact info on her first day. "I emailed them to say I showed up," she said.
Shared expectations: One of Haley's proudest achievements has been orchestrating the Pacers Bikeshare program—a project that hadn't risen out of the discussion stage before she arrived on the job. Basing her projections on Denver's program, which offered 500 bikes at 50 stations, she figured with half the bikes and half the locations, Indy might hit half of Denver's numbers. Instead, "we surpassed those right off the bat" and have counted more than 100,000 riders.
QUICK FACTS
Age: 36
Hometown: Atlanta, Georgia
Family: husband, Tim; children, Clara, 5, and Harlan, 2
Social media: Twitter, Facebook and Instagram professionally. Personally, Facebook, "mostly to keep in touch with old friends."
Reading pile: "Cooked: A Natural History of Transformation," by Michael Pollan, "All the Light We Cannot See," by Anthony Doerr, and "a lot of news on my mobile devices"
Playlist: Bluegrass (Old Crow Medicine Show, often on repeat) and classical. "Anything but heavy metal."
Yes, Virginia: One place where the Cultural Trail has clearly made a difference is Virginia Avenue, now a thriving restaurant hub. She noted that, pre-trail, a study found four people walking by the intersection of College and Virginia in a four-hour period. Now, she said, "we get that in 30 seconds, depending on the time of day. And businesses wouldn't be there if people weren't there."
Snow business: One of the unheralded jobs of the Cultural Trail staff is to make sure the eight miles of dedicated sidewalk and bike lanes are snow- and ice-free. Haley noted that's especially important since people use it to get to and from work. "They depend on us," she said, "and they know it's going to be clear."
Leading the league: Among other involvements, Haley serves on the boards for the Junior League of Indianapolis and St. Nicholas Early Learning. "What the Junior League does goes unsung. … It has a wide reach that people don't know about," she said. As for St. Nicholas: "I'm fortunate that I'm comfortable with where my kids are during the day. To help start that in a neighborhood without many child care options is very important to me."
Favorite piece of trail art: "I love Michael Kuschnir's 'Looking Through Windows,'" she said. The work, at St. Clair Street and Indiana Avenue, makes use of replicas of neighborhood window frames. "It's a unique piece designed specifically for right here. It's so colorful when the light hits it."•
Check out more 2016 Forty Under 40 honorees.
Please enable JavaScript to view this content.