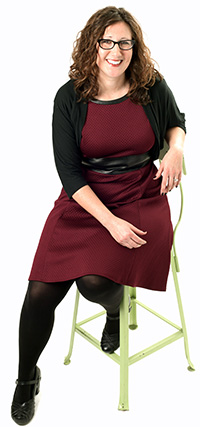 Assistant Professor of Communication Studies
IUPUI
Assistant Dean for Faculty Affairs and Professional Development
Indiana University School of Medicine
Krista Hoffmann-Longtin's responsibilities under her dual jobs include directing the Academy of Teaching Scholars, a program designed to improve faculty teaching skills. She also teaches courses and mentors students in the new doctoral program in health communication. (Her own doctorate from IU is in education leadership and policy.) Research focuses on the experiences of faculty who see patients and lead medical education efforts.

Opening credits: Hoffmann-Longtin was a founding member of the Indianapolis International Film Festival, a group she connected with after relocating from Chicago, where foreign films were a go-to activity. Since then, she has served on boards for Handi-Capable Hands (now Easter Seals Crossroads), the Perry Township Education Foundation, FILM Indiana, and the Ball State TCOM (telecommunications) Alumni Association. "I'm a pretty work-identified person," she said. "I don't see much separation between my work and what I do outside of work."

And you meant what? Part of Hoffmann-Longtin's jobs involve training faculty to communicate better. "One of the most important things they can learn is to analyze their audience," she said. "That, and understand who their audience members are: What do they think? What do they know?"

QUICK FACTS
Age: 38
Hometown: Oak Forest, Illinois
Family: husband, Bob; adult stepchildren, Al and Jeff
Social media: Facebook for personal use. "But I don't friend students until after they graduate." Professionally, uses Twitter exclusively.
Reading pile: Personal: J.K. Rowling's pseudonymous "The Cuckoo's Calling." Professional: "Shakespeare, Einstein, and the Bottom Line," by David L. Kirp
Playlist: Adele, Ryan Adams, St. Vincent, "and I'm super excited about the Forecastle Festival." (This year, the Louisville event will feature Adams as well as Alabama Shakes, The Avett Brothers, and many more.)
Communication breakdown: She said researchers, once they become experts, often don't remember how they learned what they learned. They need to be reminded that, "People that they are talking to outside of their area aren't dumb; they just have to help them make the ideas connect together."

Starting points: She often starts by asking why they research what they research. "Inevitably," she said, "there's an awesome origin story. Very rarely do they say they read it in a textbook somewhere. Almost always it's, 'I knew someone who had this disease,' or, 'I ran into this question and didn't have an answer.' They are much more interesting when they remember what's important."

Yes, and? Some of her techniques have been borrowed from applied improvisational theater. "We're not teaching them to be actors or comedians," she said, "but these strategies help our faculty relate their research to the experiences of patients and the lay public. By helping them to understand their audience more effectively, we are changing the way our faculty thinks about their impact on the community."•



Check out more 2016 Forty Under 40 honorees.