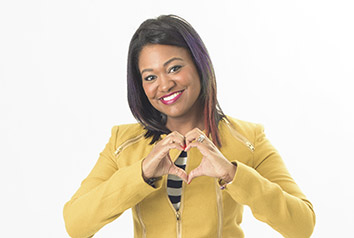 Owner
Malina Simone Inc.
A former arts services manager at the Arts Council of Indianapolis and director of marketing and programs at the Madame Walker Theatre Center, Malina Jeffers now creates projects on her own, including many under the Mosaic City brand.
Proudest career moment: Winning $10,000 in the 5×5 Arts & Innovation Prize Competition. "I'd just taken the leap away from a formal employer and Indy caught me and supported my idea like it does so well. … It was such a great testament to our city and how, if you have an idea, it can be realized here. It was just the boost of confidence necessary to press into the projects and conversations that needed to happen."
And that project was? Jeffers created an exhibit with photographer Mallory Talty titled "I am an Artist," to try to broaden the traditional definition of "artist" to include DJs, tattoo artists, drummers, rappers, chefs and more. "So many artists … are not in the mainstream arts-and-culture scene. And the mainstream scene doesn't know how to find these alternative artists."

QUICK FACTS
Age: 34
Hometown: Indianapolis
Family: husband, Stephen;
children, Sydney, 8, Simone, 7
Social media: Instagram most
often, plus Twitter and Facebook
Reading pile: "'Why Are All the Black Kids Sitting Together in the Cafeteria?' and Other
Conversations About Race," by Beverly Daniel Tatum; "Love Where You Live," by Peter Kageyama
Playlist: "I've recently gotten into all this Odesza." And locally? "Gospel rapper Will Stomp." 
Busy with boards: Jeffers serves on the boards of, among others, Indiana Humanities, Big Car and the Indianapolis Downtown Marketing Initiative, while also serving on committees for 100 Black Men Advisory Council, IndyHub Exchange, The Exchange at the Indianapolis Urban League, Advance 317, and United Way of Central Indiana.
Creating a safe place: While diversity is a priority for the city, Jeffers said "there hasn't been a safe place to talk about it. We are afraid to have the conversation because we don't want to hurt anyone's feelings. In some cases, we are too careful—to our own detriment." Her goal: To be the conduit for those conversations—"to be that safe place. I'm the person who cannot be offended."•
Check out more 2016 Forty Under 40 honorees..
Please enable JavaScript to view this content.