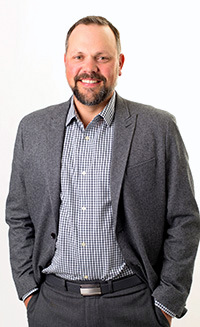 President and Founder
LUNA Language Services

After returning from Peace Corps work in the Dominican Republic, Chris Waters began interpreting at Methodist Hospital's emergency department at the time when a wave of immigration hit Indianapolis. Seeing the need for qualified interpreters in the hospitals and courts, he launched Indianapolis Interpreters (rebranded in 2014 as Luna Language Services), which now has the largest American Sign Language interpreting staff in the region.

Heroes down the hall: "My greatest heroes are my staff and the interpreters, translators and teachers we work with," Waters said. "Many of them came to the U.S. after fleeing from persecution or financial hardships that most of us could never imagine. I work with hard-working, humble, selfless people. When I am having a bad day, I look around and am reminded how privileged I am to be here in this life, and also how fortunate I am to learn from people who have seen hardships I will likely never know, and who were tough enough to re-create their lives here in Indiana."

Finding talent: Currently, Luna has 28 full-time staffers and contracts with hundreds of free-lance interpreters, translators and teachers. A key to attracting talent, he said, is Indianapolis itself. "I'm a huge Indianapolis advocate," he said. "People don't understand how great life can be here. We've got sports, music, arts and culture, a livable downtown, nice suburbs, great cool neighborhoods. And we've got the best airport in the country if you travel for work."

Quick Facts
Age: 39

Hometown: Carmel

Family: wife, Marina; children, Luna, 6, and Coleman "Coco," 4

Social media: Checks into Instagram, Facebook and Twitter daily.

Reading pile: A close friend with best-selling author John Green, Waters is finally getting to Green's "An Abundance of Katherines." ("It's a running joke with him," Waters said.) Also reading "Escape from Camp 14," by Blaine Harden, and Patti Smith's autobiography. "I wish I had more time to read," he said. "When I was in the Peace Corps, I read 250 books."

Playlist: Always expanding his list on Spotify, Waters recently added the latest from Coldplay and Adele while revisiting Cowboy Junkies, Ben Harper and Alexi Murdoch.
Prime partnerships: Pairing with other companies is key to Luna's success, including work with Exodus Refugee Immigration, Deaf Community Services (part of Easter Seals), and countless other small organizations serving refugees and the deaf and hard of hearing.

Looking back/looking forward: Luna created a scholarship at Vincennes University for students in the American Sign Language interpreter training program. "I received scholarships in college," Waters said, "and I never believed I would be in the position to pay that incredible gift forward."

Naming rights: With the company sharing a name with his daughter, won't his son eventually feel slighted? "If we set up a foundation," Waters said, "it will be Coco's Causes to appease him."•



Check out more 2016 Forty Under 40 honorees.