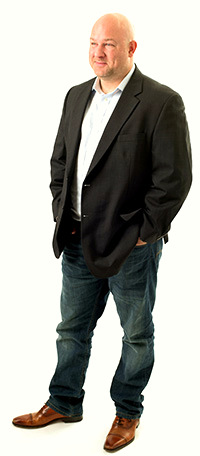 Founder and CEO
​Rook Security​

At 27, J.J. Thompson created Rook Security (formerly Rook Consulting) as a provider of risk-based decision support for IT security, compliance and risk-management initiatives. With business doubling every year since 2010, Rook has grown from 11 to 55 full-time employees. The company holds seven registered trademarks with 10 more pending and has earned a spot on the Inc. 500.

Mow money: Whether it was clearing snow from driveways, mowing lawns or building furniture, Thompson recalled working steadily while in elementary and high school. In fifth grade, he was asked by a neighbor to help clear a computer virus and was paid $50. "I was shocked," he said. "To me, that was easy stuff. Like breathing … and it sure beat mowing lawns."

Team building: At Rook, he said, "I get to work with the most talented people I have ever dreamed of working with. To see that they want to be a part of what I started is validating, and to see what can be accomplished when bringing bright minds together, giving them what they need to succeed, and getting out of the way is humbling. To think that all of that started in a tiny house in Silicon Valley, survived the recession, and now provides for over 60 families here in Indiana makes the roller-coaster of riding the highs and surviving the lows worth it."

Quick Facts
Age: ​34​

Hometown: West Lafayette ​

Family: wife, Keri; children,
Jacob, 3, Gracelyn, 1​

Social media: Facebook, Twitter and LinkedIn. "Whenever using
any social media, you are giving info away that can be used to your detriment." Plus, he added, "when you're tweeting that you love this vacation in the Virgin Islands,
that's a good indicator that you are not at home."

Reading pile: "Isis: The State of Terror," by Jessica Stern and J.M. Berger. The Jack Reacher series for fun. Also, the "The Interlinear Hebrew-Greek-English Bible"… "and right beside that is the
Quran."

Playlist: "I don't listen to music."
On the clock: Thompson noted that cyber attacks "happen when it's most unfortunate. Like 4 p.m. on Fridays and in the middle of the night. That leads to odd working hours at times."

Getting away: For a tech guy who "can't stop thinking," Thompson takes the word "getaway" seriously. Recently, he took a caribou-hunting trip in the Northwest Territories in Canada. "We were literally in the middle of nowhere, helicoptered in, dealing with grizzlies and finding water. I like to do a trip like that every year." Diving is another diversion. "When underwater, mistakes are deadly. You can't think about things other than where you are at the moment."•



Check out more 2016 Forty Under 40 honorees.