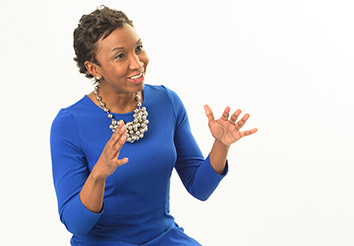 Leadership/development Director
self-employed
Working with a broad spectrum of civic leaders while at Leadership Indianapolis, Elana Thompson launched a civic boot camp to urge professionals to become more engaged. She serves as board chairwoman for ACE Preparatory Academy and is working on her dissertation for a doctorate in educational administration specializing in higher education from Indiana State University.
Serious study: "My research centers on black boys and what factors contribute to them entering and, most importantly, graduating from college," Thompson said. "I chose this area for several reasons: I have two black sons, I have worked at universities focusing on recruitment and retention of minority students, and I am concerned about the rates of black men in higher education and how this impacts our city and our nation." She hopes to complete her dissertation this year.
Rooted in education: Thompson's mother was a teacher, then a principal, then a superintendent. "I lived in the school," she said. She has continued to learn, noting, "Everyone's not a born leader. No matter what area you are in or what position, there's always room for growth."

Quick Facts
Age:
37
Hometown: Montgomery,
Alabama
Family: husband, Dexter; children, Dylan, 10, and Devin, 8
Social media: Facebook for work and a little Twitter. "I'm kind of
old-school. I write a lot of notes
and letters."
Reading pile: "The Trouble with Black Boys … And Other Reflections on Race, Equity, and
the Future of Public Education," by Pedro A. Noguera, and "The Leadership Challenge," by James
M. Kouzes and Barry Z. Posner
Playlist: "I've been playing Adele so much since [the album "25"] came out, it needs a rest." She also likes to listen to Joel Osteen on the radio. Another option: silence. "I kinda like that, too."
Deliberate engagement: A founding board member of ACE Preparatory Academy (opening in August), she was a member of the Women's Fund of Central Indiana's Options philanthropy and leadership class 14 and served on its alumni advisory board. She also served on the Indianapolis Public Schools Foundation board. But in her Leadership Indianapolis classes, she advises not to join boards for the sake of being on the board. "We all have experienced people who are placeholders," she said. "It's better to be purposeful about where you use your passion and your gifts."
Her I-team: "A few years ago, I realized that having my own personal board of directors has been critical to my growth," said Thompson. "I call them parents, sisters, friend, former supervisor, SKL classmate, mentor, but I have a circle of people that truly keep me grounded, focused and humble. They praise me when I am doing well and have no problem letting me know if I am slacking or not living up to my potential. They are my cheerleaders, my auditors, and sometimes my biggest critics. They push me. They challenge me. They hold me accountable."•
Check out more 2016 Forty Under 40 honorees.
Please enable JavaScript to view this content.