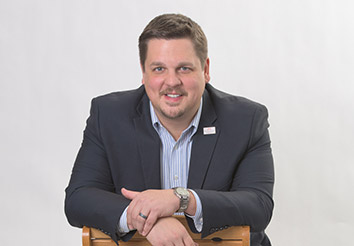 President and CEO
Cancer Support Community Central Indiana
Since Eric Richards arrived at Cancer Support Community Central Indiana, the group has served 300 percent more patients. It's raised 50 percent more revenue from 2014 to 2015 and private support is up 150 percent. He's also created new partnerships with hospitals. Richards can also be heard playing guitar in coffee shops in Indy and Carmel.
Serving the underserved: Cancer Support Community helps any person with cancer regardless of income. "We've doubled down on the underserved population," Richards said.
Name game: One of the first challenges Richards faced when he arrived at CSC was name recognition—or lack thereof—in the community. "When you compare it to other cancer-related organizations in the community, this one is not the first that comes to mind." Yet, he said, it's been around for 20 years. His predecessor, he said, did a great job of upping the ante. "I'm just building on what she started."

Quick Facts
Age:
39
Hometown: Franklin
Family: wife, Kristin; son, Jack, 1
Social media: Professionally on Facebook. Privately—and for his music sideline—he uses both Facebook and Twitter. "I'm a starving artist, so I use social media a lot for that." A singer/songwriter in his downtime, Richards has even live tweeted during coffee-shop performances.
Reading  pile: A current-events junkie, he tries to be balanced, checking out MSNBC, Fox and CNN websites to see different reactions to events.
Playlist: Jason Isbell, Glenn Hansard, James Bay, Vance Joy
Club creation: Richards served for two years as president of Indianapolis Metropolitan Rotary Club, an organization he co-founded. He also serves on the Indiana Artisan board (including governing the Indiana Artisan Marketplace, which attracted 5,000 patrons in both 2014 and 2015), the alumni board of the Lilly School of Philanthropy at Indiana University, and the Franklin College Alumni Council.
Opening door: Richards points to Little Red Door Cancer Agency Director Fred Duncan as a role model. "He's an unbelievable motivator and communicator and taught me that entrepreneurs also exist in the non-profit world and that taking chances and investing in the mission of your organization shouldn't just be discussed but lived daily."
Just beginning: Richards' success has been palpable. "By no means are we stopping now, though. There are approximately 20,000 people diagnosed with cancer in central Indiana and all of us know someone impacted."•
Check out more 2016 Forty Under 40 honorees.
Please enable JavaScript to view this content.