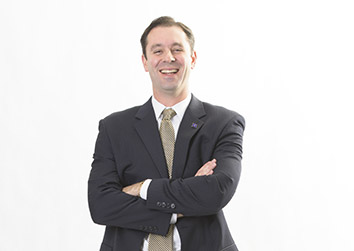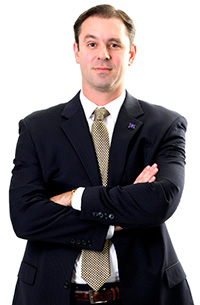 State Director
Office of U.S. Sen. Dan Coats
After nearly two years as director of legislation and communications for the city of Bloomington, Daniel Lopez became executive director of the state of Indiana Commission on Hispanic/Latino Affairs under then-Gov. Mitch Daniels, then moved on to deputy director of the state Civil Rights Commission, special assistant to Gov. Mike Pence, and now state director for the Office of Sen. Dan Coats.
Family matters: "My family is, by their example, the single greatest driver behind who I am," said Lopez, whose family—both sides—came from Cuba as political refugees. "My grandparents cared for their own children and, for a time, nieces and nephews who arrived without family. … My parents studied, achieved and continue to sacrifice daily to ensure that my sisters and I have every opportunity to succeed."
State surprises: Traveling around Indiana for the Daniels administration was a great education. "Think about the fact that we are home to two of the largest Burmese populations in the world. Or that Benton County has become a hub for innovative shrimp farming and aquaculture. Or that half of all caskets in the U.S. are manufactured in Batesville. … I really would rather be on the road than sitting at my desk."

QUICK FACTS
Age: 36
Hometown: Miami
Family: wife, Dr. Sofia M. Souto; son, Daniel, 2
Social media: "definitely Facebook, obviously Twitter"
Reading pile: A big fan of Charles Dickens and Arthur Conan Doyle's Sherlock Holmes books, Lopez also tries "to go out of my way to read stuff that pisses me off," because, "You're forced to re-evaluate why you stand for the things you stand for." 
Playlist: Traditional Cuban music
of the '40s and '50s. Plus '80s music. And Jimmy Buffett. His go-to artists for karaoke are Bob Seger and Willie Nelson. 
Day-to-day: "We're essentially the eyes and ears of the senator, representing the office," he said. "Just the maintenance of relationships throughout the state … can become a consuming piece of what I do. Plus, when the senator is in town, it's all about him, ensuring his schedule is set and he's doing what needs to be done while he's here." Lopez also speaks on legislative and political issues.
No call waiting: Indiana, he said, is "a place where people take your calls and try to get you engaged. If you are willing to work, people pull you into things. You don't have this kind of access to community leaders in places like Chicago or Miami."
Paying it forward: As a former basketball coach at a junior college—and with a master's in sports administration—Lopez's board membership at the YMCA of Central Indiana makes for a strong fit. He also serves on the Leadership Indianapolis President's Advisory Council and Jeb Bush for President's National Hispanic Advisory Council.•
Check out more 2016 Forty Under 40 honorees..
Please enable JavaScript to view this content.