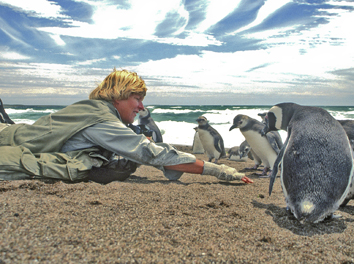 The Indianapolis Zoo on Tuesday announced the six finalists for this year's $250,000 Indianapolis Prize, which the zoo bills as the world's leading award for animal conservation.

The finalists have a range of specialties, from saving the muskox in the Arctic tundra to using Galapagos penguins to measure environmental change.

With funding support from the Eli Lilly and Co. Foundation, the zoo has given the Indianapolis Prize every other year since 2006 as a means to advance is animal conservation mission. A jury of conservationists and their representatives will select the winner, who will be announced at an event sponsored by Cummins Inc. in October. 

"Winning the Indianapolis Prize stands out as one of the highlights of my career," Patricia Wright, who in 2014 received the Indianapolis Prize for her efforts to protect Madagascar's lemurs from extinction, said in a statement. "It is truly the Nobel Prize of animal conservation and the 2016 finalists represent some of the best and brightest minds in conservation."

The 2016 finalists:

—Joel Berger of the Wildlife Conservation Society Colorado State University, who strives to save flagship species like the muskox in the Arctic tundra and the wild yak of the alpine on the Tibetan Plateau. 

—Dee Boersma of the University of Washington Department of Biology, who studies Galapagos penguins, showing how the seabirds are indicators of environmental change. 

—Rodney Jackson of the Snow Leopard Conservancy, who is one of the world's experts on the elusive, endangered snow leopard.

—Carl Jones of the Durrell Wildlife Conservation Trust, who has brought a dozen species back from the brink of extinction, including the Mauritius kestrel and echo parakeet. 

—Carl Safina of the Safina Center at Stony Brook University, who has pioneered innovative approaches to studying marine species, including reef coral and whales.

—Amanda Vincent of Project Seahorse at the University of British Columbia, who was one of the first researchers to study seahorses underwater and put 47 species on the global conservation agenda.
Please enable JavaScript to view this content.