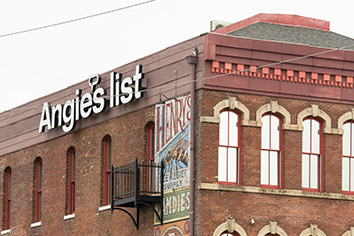 Angie's List Inc. and rival HomeAdvisor are in the same business—connecting consumers and service providers—but their business models could hardly be more different.
That reality adds a complicating wrinkle as speculation intensifies that HomeAdvisor's parent, New York-based IAC/InterActiveCorp, soon will take another run at acquiring Indianapolis-based Angie's List.
The Internet behemoth, whose sites include Dictionary.com and Shoebuy.com, made a $512 million buyout bid for Angie's List last November. The Angie's List board unanimously rejected it, but recent media reports suggest IAC might make a new overture after Angie's earnings release, which is scheduled for Feb. 23.
HomeAdvisor is free to consumers, but it charges service providers an annual subscription to be part of its screened network of professionals. Service providers need not pay anything to be seen on Angie's List, but many sign contracts with the company to advertise and sell pre-packaged service offerings to Angie's paying members.
The user experiences differ as well. On HomeAdvisor, consumers answer various prompts about their search and get matched to a few service providers. Angie's List works more like a directory, where members have unfettered access to scores of member-rated service professionals.
Service providers on HomeAdvisor can filter the types of qualified leads they'd like to receive, but they have to pay for each lead. On Angie's List, leads primarily come from advertising or having high member ratings. Angie's does get a cut of so-called e-commerce transactions, though, such as $99 gutter cleanings.
There's no guarantee IAC will make another offer, and strong earnings results could favor Angie's board members who've argued investors are better off, for now, by not selling the home-services company.
Keeping the company independent would reduce the likelihood of deep cuts to the company's workforce, which tops 1,500 in Indianapolis.
But Angie's List has at least one activist investor that's been aggressively pushing a sale, and it's up against a conglomerate in IAC that's had a voracious appetite for acquiring and spinning off Web properties since the 2000s. Analysts said if Angie's shareholders ultimately agree to a sale, IAC will have to decide whether to maintain the separate Angie's List brand or absorb it into HomeAdvisor.

Rice
"Generally, I feel today that the benefits are greater to maintain the brands and consolidate the back office," Needham & Co. analyst Kerry Rice said. He noted that merging the businesses could yield significant value in the long run, but, "I just think that, near term, that creates a lot more execution risk."
IAC didn't respond to requests for comment for this article, and Angie's List declined to comment.
Angie's stock closed Feb. 10 at $9.16. It had dipped below $4 a share last summer in the wake of repeated earnings misses and slowing revenue growth. But shares took off in October, around the time activist investor TCS Capital Management began publicly pressing for a HomeAdvisor merger.
The stock price surged after IAC's initial $8.75-a-share offer last fall, slowly retreated, and popped again after The New York Post reported Feb. 3 that IAC was cooking another buyout offer.
Analysts said IAC is after Angie's List so it can consolidate part of a vast but fragmented home-services marketplace, positioning it to compete with tech heavyweights like Amazon, Google and Facebook that have made entries into the space.
Harper
"There's a lot more competition from these bigger guys, so it really is imperative to get to scale faster," said Blake Harper, an analyst with Topeka Capital Markets.
Rice estimates Colorado-based HomeAdvisor had $361 million in revenue last year, and Angie's is projected to have finished 2015 with $345 million in revenue.
"If they consolidated, it would be far and away the biggest" player in the space, he said.
Rice said if IAC acquired Angie's List and kept it separate from HomeAdvisor, it would be able to offer a spectrum of options for buyers and sellers in the home-services space, depending on their preferences.
"IAC may be able to offer a bundle that gives service providers a full suite," Rice said, mentioning a service provider who might want to both buy qualified leads and sell e-commerce, "which may be more than competition would be able to offer."
While customer disruption would be minimal by keeping the brands separate, an element of competition might persist. Harper said IAC would enjoy a massive trove of reviews and other assets that both consumers and service providers would benefit from, but it needs to be careful what it makes free.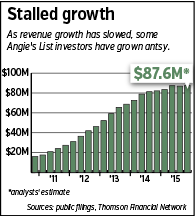 "If you can do the same thing on HomeAdvisor for free that costs on Angie's List, then you devalue the membership," Harper said.
Some analysts think it makes little sense to keep the brands separate, especially since neither brand is wildly profitable. "You'd want to get the synergies between the organizations and cut excess overhead so you can achieve profitability quicker," analyst Ken Copley of Capital Executive LLC said.
Fusing the operations could entail picking either Angie's List, HomeAdvisor or a new brand. Angie's List might have more brand equity, as HomeAdvisor changed its name from ServiceMagic in 2012.
It would be expensive to create and promote a new brand, said analyst Rohit Kulkarni of RBC Capital Markets. But doing so would allow IAC to "start from scratch and redefine the experience" for the service providers and consumers.
Still, the costs and challenges with combining two relatively equal-size companies are myriad. Cultures are likely to clash, Harper said, and layoffs are all but certain. And IAC would have to decide which elements of each business model it wanted to keep.
"There will be some disruption, there will be some cultural differences, but the longer-term benefit will be, the consumers will know there's one brand they can go to," Harper said. "If there's a single brand, it's easier for consumers to identify and understand what they're getting."
If history is any guide, IAC has no problem hosting multiple brands that target the same industry. Match Group Inc., which IAC held before spinning it off last year, featured dating properties Match.com, OkCupid, and Tinder, for instance.
IAC Chairman Barry Diller is also chairman of Expedia Inc., which boasts Expedia, Hotels.com, Hotwire and Travelocity.•
Please enable JavaScript to view this content.