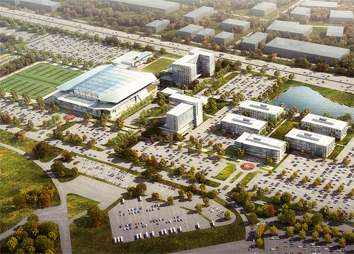 More than 100 acres of unused land at Indianapolis International Airport are set to be converted into a $500 million global brain health center to treat injured veterans and athletes, the airport announced Tuesday afternoon.
The Athletes Business Network, a seven-year-old Indianapolis-based company, aims to develop and build the 3,000-employee campus on nearly 130 acres of land. It will feature a sports-centered medical complex with five office buildings, centered by what it calls the ABN Global Center for Brain Health.
The center is billed as a global destination for treatment and research of concussions, post-traumatic stress disorder, traumatic brain injuries and other brain health conditions.
Another unused part of the airport would be redeveloped into a separate project that has yet to be announced. The Indianapolis Airport Authority selected South Bend-based Holladay Properties to develop a master plan to attract economic development projects on more than 300 acres along or near West Washington Street.
The projects were chosen from among four proposals submitted to the IAA following the airport's announcement last year to redevelop 428 acres of land near the old airport terminal.
The proposals will be presented to the authority's board for consideration and a vote on Friday.
A selection committee of several airport board members evaluated the proposals. Not chosen was a $650 plan by Las Vegas-based Full House Resorts Inc. to redevelop 135 acres into a casino and retail complex.
The medical complex aims to create about 3,000 jobs for physicians, nurses, technicians, researchers, administrators and support staff, said Craig Sanders, CEO and co-founder of ABN. 
 
The project would be split into two phases. The first would include medical office buildings and a hotel. The second would include an athletic stadium, locker room, training space, a second hotel and sports-themed entertainment and retail.
 
The company was founded to provide branding and management for athletes and veterans "to create innovative real estate developments."
 
He said he previously was co-founder of a Boston wireless company that built 1,000 cell towers and employed about 400 people.
 
Sanders declined to identify his investors. His company's finance partner, Chicago-based Ziegler Capital, is talking to potential lenders and investors.

"Several major parties have expressed interest," said Miyun Cho Fellerhof, managing director of Ziegler Capital. "At this point, we don't want everybody to know who they are."
 
The scope of the new medical center seems bold for a young company with no track record in health care development. It aims to offer a sprawling array of services focused on athletes and veterans.
 
Dr. Jim Kelly, a neurologist who is formerly director of the National Intrepid Center of Excellence at Walter Reed National Military Medical Center, will lead the medical effort, although he said he is unsure whether he will work in Indianapolis full time.
 
He said the center is not intended to compete with Indianapolis' rich array of medical providers, but to work alongside and with them.
 
"We will not be at loggerheads with them," he said. "We will be collaborative as much as possible."
 
He described the center as a place that will offer care to people suffering from traumatic brain injuries, post-traumatic stress disorders and the like. Unlike other mental health and neuroscience facilities in Indiana, it will not offer treatment or research for multiple sclerosis, schizophrenia or other mental disorders.
 
"There are three and a half million concussions a year," Dr. Kelly said. "That will be our primary focus."
 
The terms of the deal are still being finalized. The airport authority will continue to own the land and lease it to ABN under a 50-year lease, with two 20-year options, said Joseph Heerens, the authority's general counsel. The rent will be $7,500 an acre per year, he said.
The airport said ABN's development team includes Ice Miller LLP attorneys Joseph Scimia and and Matthew DeLaruelle as well as former New York Gov. George Pataki, who now is chairman of the development firm Pataki-Cahill Group.
 
The other proposal selected by the airport, from Holladay Properties, is less defined. The real estate firm said it is still developing a master plan for hundreds of acres. Possible uses could include advanced manufacturing, logistics, office space and commercial uses, said Chris Wilkes, the firm's senior vice president.
 
"This is more of a starting point for us than a vetted-out plan," he said.
Please enable JavaScript to view this content.