Ivy Tech Community College faces a crucial moment in selecting its next president, a job the college says demands education experience, fundraising chops and the ability to improve student performance.

But has the search become a political football?

Lt. Gov. Sue Ellspermann is quitting her job to apply for the Ivy Tech post—a move backed emphatically by Republican Gov. Mike Pence, who has already chosen a new lieutenant governor and running mate for this fall's election.

That puts the Ivy Tech board of trustees in an awkward spot.

Ellspermann
Choose Ellspermann, and the board—whose members are all appointed by the governor—risks looking like the selection was little more than letting Pence cherry-pick his preferred candidate.

Choose anyone else, and the board risks ignoring in Ellspermann a highly publicized candidate who supporters and top lawmakers—the people who decide the school's budget—have said would be a great fit.

Ballard
It's a tricky situation, especially given recent criticism about the school's graduation rates. And it's bound to get more difficult as other high-profile candidates are said to be considering the job as well. Former Indianapolis Mayor Greg Ballard, for one, is expected to apply, one board member said.

But Ivy Tech spokesman Jeff Fanter emphasized that "nothing has changed with the board's search process that was started back in September."

Dora
And Michael Dora, a board member and the presidential search committee chairman, said he is confident the search—prompted by current President Tom Snyder's decision to retire—does not have a foregone conclusion.

"We're not going through this and taking everybody's time just for the heck of it," Dora said. "We're committed to staying above the noise."

But it's obvious now that the board and the search will face increased scrutiny, especially given its timing in an election year.

Schreckengast
"Unfortunately, this thing has gotten a little ahead of itself," said Ivy Tech board member Steve Schreckengast.

Ivy Tech's board has a history of bucking the governor.

When trustees picked Snyder, a businessman, to lead Ivy Tech in 2007, it was a surprise to then-Gov. Mitch Daniels, who had made clear that his top choice was then-Ivy Tech Vice President Carol D'Amico.

D'Amico's attorney said at the time she was snubbed in favor of "two unqualified males" after a sexist, secretive search process.

But William Goins, then the Ivy Tech board chairman, said the trustees picked Snyder because they were "looking for somebody that was tuned into economic development."

Today, Ivy Tech's leaders insist they don't feel direct political pressure to choose a certain candidate. Both Pence and Ellspermann have said they will respect Ivy Tech's process.

Pence has "not put any pressure on anybody and that's not his style," Dora said. "He's not handpicking, and the board is not listening to anything like that. We're casting a wide net for the search."

But Pence has issued Ellspermann a strong endorsement, saying he believes she is "the best prepared, the best qualified" to lead the school, which has about 170,000 students across the state and an annual budget of $500 million.

The board is ultimately responsible for hiring the president. But a search committee that includes Ivy Tech board members and faculty, as well as business leaders, is spearheading the effort.

National search firm R. William Funk & Associates, which is based in Texas, has also been retained by the school to help.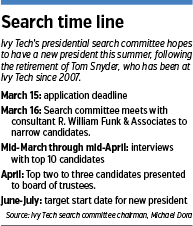 Chilling effect?

But despite Ivy Tech's protestations that politics has not affected the process, the fuss over Ellspermann, Ballard and other interested politicians might have an indirect impact on the applicant pool by turning away outside candidates in this search or in the future, higher ed experts said.

That's important because the average tenure for college presidents—about seven years, according to the American Council on Education—is shrinking.

"Whoever is picked for this position will not be there forever," said New Orleans attorney Scott Schneider, who teaches the law of higher education at Tulane University. "What you don't want to do is create a situation where, in the future, highly qualified people who would do a fantastic job for the program if an opening comes up say, 'I'm not going to get involved because it's not a fair process.'"

Dora said he doesn't believe the search has been chilled. Although he said he didn't know how many people have applied, the college has advertised the position in national education publications and reached out to large businesses, chambers, and 30 of the nation's largest community colleges.

"We have interest from within the college," Dora said. "We have some chancellors who are going to or have applied."

But public perception might tell another story, said Greg Schenkel, retired Pacers Sports & Entertainment vice president and former Ball State University board member. Schenkel, who oversaw two presidential searches during his time on the BSU board from 1990 to 2006, said he was surprised to hear Pence and Ellspermann talking so openly about the position.

"It's not to say they're wrong; it's just different than is typically the process," Schenkel said. "Searches typically are pretty private, even at a public institution. Perceptions that people form, whatever they are, can have an impact. I don't know if it chills it or not, but perception and appearance of things is very important."

Ivy Tech has always had connections to political leaders that most other schools don't enjoy, however.

Over the past two decades—as Ivy Tech moved from a trade school to a community college and grew its enrollment and funding dramatically, the school has had leaders of the Indiana House and Senate, at least two chairmen of the powerful House Ways and Means Committee, and several other lawmakers on its payroll.

'Golden opportunity'

In its job announcement, Ivy Tech said the next president must have a "learned or intuitive ability regarding political matters," including the ability to effectively manage relationships with elected officials.

It also wants a proven fundraiser, and someone who can build bridges within the organization among different constituencies. But Ivy Tech isn't necessarily seeking a politician.

"There's a lot of politics in education, but that doesn't mean a politician is the best president to lead the school," Schreckengast said. "There's a lot of moving parts in the job."

But some politicians might be interested in the job because Ivy Tech has been under increased scrutiny from them in recent years as it's struggled to graduate students on time—only about 6 percent graduate within two years, a measure the college has said doesn't take into account the complexity of its student body.

Leading Ivy Tech at this moment is a "golden opportunity" for any politician who hopes to prove himself, said Michael Leppert, a political consultant and lobbyist who is the former director of the Indiana Utility Regulatory Commission.

"I have some experience with this kind of thing in government work: Find the biggest mess available and volunteer to fix it," Leppert wrote on his Contrariana political blog. "It's a foolproof way to show your worth. … And if [Ellspermann] ends up with this job ... she will undoubtedly be even more politically strong afterward."

The politician-turned-college-president is also an increasingly common animal in the higher education world. Take Purdue University President Mitch Daniels, who moved right from the governor's office into the president's office.

"You're seeing more and more of that in higher education, with mixed results," Schneider said. "There are all these economic pressures."

And the added scrutiny can make life in the ivory tower hard.

"If it looks as if the deck was stacked in their favor or this was a political call, you run the risk of needlessly making that person's job exceptionally difficult," Schneider said.

Politician or not, Schreckengast said, the right person for the job will be a "proven leader."

"We're all striving to make Indiana better, and we all realize we need an educated workforce," he said. "There's different approaches, and when we select that right person, I think we'll be on our way to trying to accomplish that."•