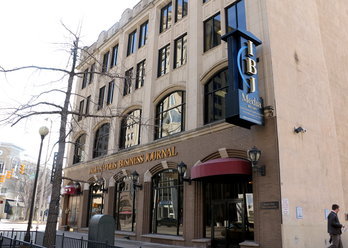 The Drury Hotels chain plans to build a 350-room hotel downtown by renovating the IBJ Media building and constructing a tower on the adjacent parking lot.
IBJ reported on Monday that St. Louis-based Drury had purchased the 92-year-old building at 41 E. Washington St. that IBJ Media has occupied for nearly 20 years.
The sale of the property to Drury includes the adjacent surface lot to the west, where Drury would build a parking garage and tower of rooms as tall as 17 stories, said Mark Kohl, Drury Development Corp.'s vice president of development.
Kohl wasn't immediately available following the announcement of the sale but provided IBJ with details of Drury's plans on Wednesday.
"The plan would be to keep the existing building and reuse it as much as we can," Kohl said.
The four-story building was owned by a group that includes IBJ Media co-owners Michael S. Maurer and Robert Schloss. The company, which publishes IBJ, The Indiana Lawyer and Court and Commercial Record, occupies the second floor.
Drury approached the ownership group late last year about selling the building, which wasn't on the market.
Drury plans to honor the leases and won't begin construction for at least three years, Kohl said.
A 350-room hotel would rank as the city's 10th-largest according to IBJ statistics. By comparison, the Embassy Suites Indianapolis Downtown has 360 rooms. With 1,005 rooms, the JW Marriott is by far the city's biggest hotel.
Drury operates two Indianapolis hotels, one at 9320 N. Michigan Road on the northwest side and another at 8180 N. Shadeland Avenue on the northeast side. It's also building a hotel at 9625 N. Meridian St. near Interstate 465 that's expected to open in the spring.
The chain had been scouting downtown for several years, Kohl said.
"The location of this building and its proximity downtown was a focus for us," he said.
Terms of the transaction were not disclosed. The building's assessed value is $4.8 million.
 
Please enable JavaScript to view this content.