Out-of-state developer Hendricks Commercial Properties hopes to make a bold statement in Indianapolis with its $260 million pitch for a mixed-use project on a highly coveted piece of downtown land.

The Beloit, Wisconsin-based company only arrived in the city about four years ago, to build its $30 million Ironworks apartment and retail development on the southwest corner of East 86th Street and Keystone Avenue.

Since Ironworks' completion in May 2014, Hendricks has bought the Century and Massala buildings downtown and is set to construct a $20.1 million, 120-room hotel next to Ironworks.

Gerbitz
Now the firm is eyeing what would be by far its most ambitious project in Indianapolis—1 million square feet of commercial development that would transform the east end of the Massachusetts Avenue corridor into a hub of activity.

"We think it can really make an impact, and we think we did that with Ironworks," said Hendricks CEO Rob Gerbitz, 46. "We just felt that it was something that was right in our wheelhouse. The location is just terrific."

Esselman
Hendricks is one of five firms—the others are all locally based—vying to redevelop the 11-acre site bounded by College and Massachusetts avenues and owned by Indianapolis Public Schools.

IPS received six proposals by the Feb. 11 deadline, including two from Milhaus Development LLC, and hopes to make a selection at the March IPS board meeting. Others submitting bids were Hageman Group, Mass Ave Partners (a partnership of Strategic Capital Partners and Schmidt Associates), and the team of Browning Investments and Flaherty & Collins Properties.

To put the scope of Hendricks' project into perspective, the next-most-expensive bid, from Mass Ave Partners, comes in at $217.4 million—or 16.4 percent cheaper.

Cantu
Besides the investment, what really makes Hendricks' proposal intriguing to real estate observers is that it calls for the least amount of city subsidies—just $2.4 million for site remediation—while others are seeking $6.5 million to $28.6 million.

The not-for-profit Downtown Indy is not endorsing any of the proposals, but Catherine Esselman, the group's real estate development manager, likes what she sees from Hendricks.

"Because it's the most ambitious, it makes me the most excited," she said. "And they're not looking for a ton of city subsidies. It's kind of like, 'Put your money where your mouth is,' right? This proposal does that."

The company said its financial wherewithal and its strategy to hold investments long term make it less reliant on government assistance.

Diane Hendricks founded the company in 1974 and, eight years later, started ABC Supply Co. Inc. with husband Ken Hendricks, now deceased. ABC, a wholesale distributor of building materials, boasts 600 locations and annual revenue of more than $5 billion. With a net worth of $3.7 billion, Diane Hendricks is ranked No. 159 on Forbes' 2015 list of richest people in America.

"When they go to a market, it's a long-term play," said Alex Cantu, senior vice president of capital markets at Colliers International. "They're not three-year investors; they're 20-year investors, or beyond that."

Cantu represented Chicago-based Zeller Realty Group in its March 2015 sale to Hendricks of the Century Building at 36 S. Pennsylvania St. Colliers now manages and leases the building for Hendricks and manages Hendricks' Massala Building on Mass Ave, which it also bought last year.

At the IPS site, Hendricks is proposing to build 339,000 square feet of office space, 67,000 square feet of retail space—nearly half of which would be occupied by a specialty grocer—and 337 residential units.

A 132-room, boutique-style hotel and 41,000-square-foot dinner movie theater are part of the plans, too.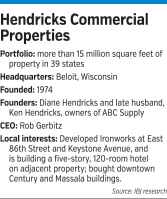 With downtown office vacancy hovering around 20 percent, Esselman is a bit concerned about the amount of office space Hendricks is pitching.

"They've got a lot packed into that site, not that it all can't come together," she said. "There's just a lot of space to fill."

A hotel on the site would bring the first lodging to the Mass Ave area. The closest competitor would be the 150-room 21c set to be built on a surface lot north of Old City Hall at 202 N. Alabama St., less than two blocks from the start of the avenue.

Mass Ave Partners also is proposing a hotel, in the range of 150 rooms.

Meanwhile, Hendricks continues to seek more opportunities in Indianapolis. The company typically considers three to six deals at a given time, Gerbitz said. It operates in 32 states.

"If you have great experiences, you keep working there," he said.

The firm's local flagship, the 120-unit Ironworks at Keystone at the Crossing, is about 95 percent occupied. Monthly rent for an average, 850-square-foot unit runs about $1,200. Occupancy is high because of the quality of the product, said Hannah Ott, a partner at the Tikijian Associates apartment brokerage.

"It's a great location, in that it's at 86th and Keystone," she said. "But it's not like you're getting on the Monon there."

The northern portion of the IPS site that bounds East 10th Street sits near where the Monon and Cultural trails converge—making the property that much more attractive for development.

The land currently houses a former Coca-Cola bottling plant and an IPS bus yard. All of the proposals call for incorporating the 285,000-square-foot art deco building, or at least its façade, into redevelopment plans.

Mimi Blue Meatballs opened in January 2015 in space just east of the Coke plant building and would welcome the additional foot traffic, said Gerry Kosene, a partner in the restaurant and in the Kosene & Kosene apartment developer.

He doesn't care whom IPS selects, as long as the parcel gets developed.

"It's one of the best development opportunities we have left in our urban center," he said. "I hope it happens."•