Finalist: Community Achievement In Health Care
Beth's Legacy of Hope
When Beth Stayer, a labor and delivery post-partum nurse, came into an Indiana University Health trauma unit as a patient in 2009, those on duty who knew her were shocked to find themselves caring for one of their own.

When Stayer later died from the injuries inflicted by her ex-husband, those same trauma unit workers decided to do something to remember her and help keep others from becoming victims of domestic violence. The result is Beth's Legacy of Hope, an educational program that has since trained more than 3,000 IU Health employees to identify cases of domestic violence and help victims survive and thrive.

"What hit home is that this could be any one of us," said Lynn Young, a social worker and forensic specialist at IU Health Methodist Hospital's Center of Hope, a program offered at IU Health Methodist and other Indianapolis health systems where victims can receive help in a private, quiet, compassionate environment.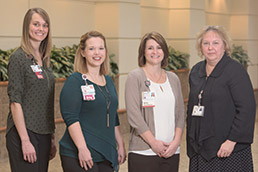 From left, Catana Philipps, Jill Castor, Melissa Hockaday and Lynn Young (IBJ photo/Eric Learned)
Indeed, an anonymous survey of IU Health employees revealed that nearly one in four were or had been involved in a violent domestic relationship. And whenever a Beth's Legacy of Hope presentation is delivered to a large group of employees, it's not uncommon for up to a half dozen to come forward afterward and self-identify as victims, said Jill Castor, a trauma educator and outreach coordinator for IU Health.

She noted that all domestic violence cases are unique. The trickiest cases to identify are those that involve such things as heart problems, abdominal pain, even headaches.

Everyone who comes into contact with a patient is trained to ask a series of questions, including, "Are you safe at home?" On average, victims don't admit to being a victim until they've been asked seven times. Even then, many aren't ready to seek help. But they are given information about where to find the resources they need when they want them. Most important, perhaps, they're shown compassion and are assured the hospital itself is a safe haven.

Beth's Legacy of Hope started in 2011 when Melissa Hockaday, service line leader for trauma and acute care surgery at Methodist, succeeded in getting a $50,000 grant from the Methodist Health Foundation.

The program has grown beyond educating hospital employees. A 12-week class for victims helps them get back on their feet and thrive through six weeks of training and six weeks of private counseling. There's a Beth's Legacy of Hope video that staff show at churches and other organizations that request it.

Beth Stayer has become the silent voice fighting for victims in abusive relationships, Hockaday said. "The program has saved many lives and given hope to victims of violence."•