Finalist: Advancements In Health Care
Rock Steady Boxing
For victims of Parkinson's disease who have trouble maintaining their balance, jumping rope for fitness doesn't seem like a good option. Yet that's one of the many activities Parkinson's patients are doing in Rock Steady Boxing classes in Italy, Australia and across the United States.

Rock Steady Boxing, founded in Indianapolis, is itself a counterintuitive idea. Hitting and healing don't usually mix, after all. But the concept of using a boxing training regimen to fight Parkinson's is here to stay, largely because of one man's desire to help a friend fight the disease.

Former Marion County Prosecutor Scott Newman was diagnosed with Parkinson's in 2006 and experienced a rapid progression of symptoms, including tremors and rigidity. His friend Vince Perez didn't want to stand by helplessly and watch Newman deteriorate. So Perez, a boxer, did the only thing he could think of to help: He invited Newman to the gym and put him through the same kind of training a boxer would go through before a fight.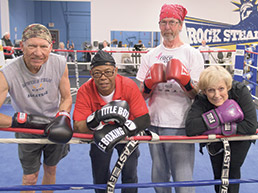 From left, Steve Gilbert, Charles McDaniel, Mark Caldwell and Candy Kelley (IBJ photo/Eric Learned)
Much to the surprise of both men, Newman's symptoms diminished. Stretching out his arms, Newman said, "Look, I'm rock steady," and a movement was born.

Rock Steady Boxing is now a not-for-profit with 93 affiliates in 28 states, said Joyce Johnson, who joined the organization as its first executive director in 2011.

"Boxers in our program are training exactly like a boxer would train for a fight. The difference is, they don't hit anyone. Their opponent is Parkinson's disease," Johnson said.

More than 200 people a month participate in boxing-inspired exercise at the Indianapolis gym. Members, who pay $60 a month, undergo a 90-minute evaluation when they start the program and must secure approval from their primary care physician.

Two full-time trainers, including professional female boxer Kristy Follmar, and three contractors teach classes three times a week. Another handful of employees manages Rock Steady's affiliate program, which offers a 2-1/2-day training camp for anyone who wants to start a Rock Steady program in their home community. Rock Steady expects to train 300 potential affiliates at its camps in 2016.

Although Rock Steady has its own gym in Indianapolis, Johnson said most affiliate programs take place in an existing fitness facility.

In the last 10 years, science has caught up with what Perez and Newman discovered by accident. Researchers at the University of Indianapolis and Cleveland Clinic have documented the physical and neurological improvements in Parkinson's patients who've engaged in intense workouts.

Participants also report a psychological lift from Rock Steady classes.

"Today, I have a new lease on life. I have taken control of this disease; it is not controlling me," said one Rock Steady client.•